Product imagery is critical to sales and customer engagement for furniture manufacturers and dealers. To make sure your products stand out from the competiton while also being accurately represented, you rely on high-quality imagery that shows off your products and their key features. In the past, product imagery was mostly photography. Products would be staged in studios or other locations built around displaying the products. Now, we have furniture visualization services that go far beyond 2D photography.

Are you curious about what exactly a visualization services team with expertise in contract furniture can offer for your products and sales? Check out our full guide to KiSP's visualization services which represent the newest in the industry, below.

Why Work with a Visualization Services Team?
People go to a visualization services vendor for several reasons. Manufacturers may have them create product imagery either as renderings on white backgrounds of individual products and product lines or as part of a scene showing the product in full context with other articles and in different room styles. This imagery could be used for marketing, catalogs, websites, e-commerce, and more. Anywhere the manufacturer wants high-quality images of their products.

Most renderings that are done in-house for a manufacturer are quick renders, usually done within CET Designer or a similar program. These renders can do the job for a quick visualization, but they won't paint your product or design in the best light. Fabric finishes in particular may not look as realistic as you would like, as well as metal and wood surfaces. If you're looking to bring these visuals to a pitch or include them in a bid they may not show your products to the best advantage. If you come to a furniture visualization services team, like the one at KiSP, they can help you enhance your current visuals and make them more photorealistic by applying lighting and material models. They can help you make the most impact and win you the bid.

Visualization services like KiSP can also help manufacturers save money and time when it comes to visualizing their products. It doesn't require quoting for spaces for staging, assembly time for products, setting up proper lighting, or hiring a photographer and staging director. Instead, that is all handled through the visualization team and their expertise.

An External Support Team
Another way we often see our furniture visualization services group used is as a support team for in-house teams at the manufacturer. The KiSP team often is brought in to help support these teams when things are busy, or several new products need to be visualized in a short timeframe. With some direction and data, an external team can easily settle in and start supporting your team during busy times in your industry. The team is also invaluable at helping internal teams keep up with dealer sales requests. Having an external vendor can maintain the expected turnaround time even while juggling multiple requests.

Bid Support
Visualization services are also invaluable for bid support. Not only are they able to help you achieve the deadlines required for a bid, but their vast range of experience means they bring fresh eyes to a project while still staying within your standards. They may also be able to help you stand out from the competition with high-quality rendering, of course - but also newer more immersive presentations including animations, AR and VR.

What Can You Create With the Right Furniture Visualization Services Team?
While visualization services still often mean renders, whether they are on white backgrounds or more complicated environments, these 2D images are just the beginning of what an experienced team like the one at KiSP can create. With proper rendering tools, there are many ways a visualization team can help bring your design or vision to life. Let's review the options for visualizing your furniture products in approximate order of the level of immersion and fidelity they provide.
3D models from spec sheets
As mentioned before, our KiSP team has the tools to take your product details from a spec sheet and create a 3D model for you to use. These will be highly detailed 3D models that can be customized depending on the product. Allowing you to apply all the different finishes or fabrics that might be available for the product.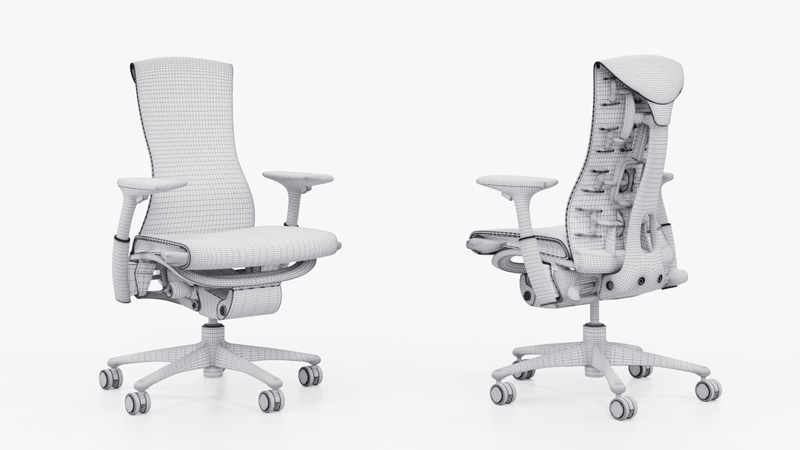 2D Renderings
We've talked about creating product imagery for manufacturers, but 2D renders are used by a multitude of industries. Designers can come to us with their floorplates for an office or hospital waiting room or educational space. KiSP's experience in contract furniture rendering across verticals can help visualize ideas within product and industry standards. We can help you tell a more visual story that is clear and easily understood by many audiences of people who do not live in the furniture industry and need visuals to help them move down the sales cycle.

2D renderings are quite popular and are used in a multitude of places. People work with the KiSP Visualization Services team to create images for catalogs, websites, social media. We even can help create product imagery that can be used in a product configurator. We can render a single product, in all it's different varieties and finishes and have it in a white background, easy to put into a configurator product page to focus on the product alone.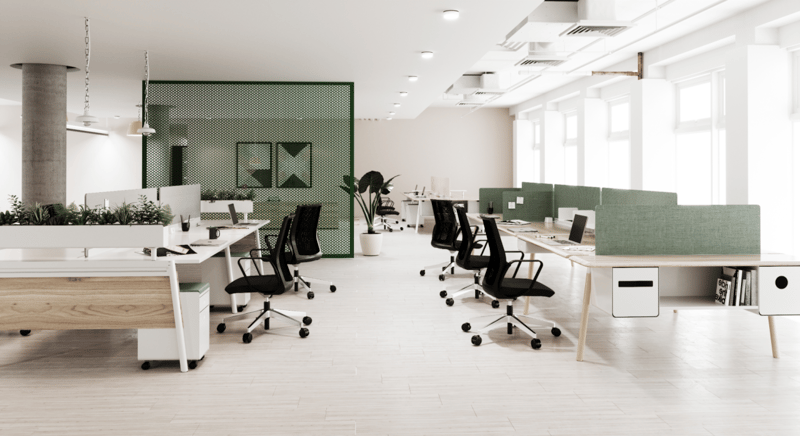 Animations and Fly-throughs - Moving Visualization Services
Static images can only tell part of the story sometimes. Clients may want to see more of the design you are showing and get a better idea of the whole space. To take things one step further, visualization services can create animations and virtual fly-throughs of your designed spaces. This helps clients understand space flow, sightlines and have a better sense of how one space can exist in the context of another - for example, how will it feel to walk clients from reception to a boardroom? Or for students in a k-12 environment to go safely from a building entrance to a classroom? Fly-throughs can also be important to corporate clients who are concerned about visual branding, whether through signage or color use, fly-throughs tell the story of how a space will feel more clearly than 2D renderings and can stand out in bids and move clients down the sales cycle much faster.


Outside of flythroughs, animations are important in an era when furniture manufacturers are trying to show flexible furniture and spaces. Talking about easily moving furniture to the side of a room, or about how desks can quickly be changed from personal to group work spaces is far less effective than showing animation of how the furniture can actually move. We use this type of animation frequently for both conference room spaces and k-12 education spaces, but it's useful whenever a cornerstone of your product line is flexibility. It can also prove you have your client's priorities in mind and make you a trusted partner if you're pitching someone who is especially interested in future-proofing and flex spaces.

Add motion to renderings and show off different features or elements from all angles. All of these help a viewer better understand what exactly you are planning for their space and they can come away with clearer ideas of what their space will become. We also find that many audiences have a more emotional connection to a video rather than a static image. That quick emotional connection could make the difference in securing your deal.
Augmented and Virtual Reality Services
If you're looking to bring your space to another dimension, our visualization team at KiSP can create both augmented and virtual reality experiences. Working with our partner company, Yulio, we can take your renders and create 3D spaces that can be explored, in virtual reality. Someone can experience your design from a headset, a mobile device, or even just explore through a portal on the desktop. It's a little like the difference between looking out the window, and being in a park.

We find that virtual reality experiences can be extremely impactful during your presentation. The technology is still somewhat novel and someone can have a very enlightening wow moment trying it out for the first time. More importantly, VR is extremely useful in showing off small spaces, and allowing you to show a series of options rapidly. Rather than having clients tell you 'they'll think about it' when you've shown some options, you can put them in a headset and flip between visions of what doesn't exist yet and get more done in a meeting. You can make an impact on someone and make your design standard something memorable with the addition of this technology. It also sets you up as a forward-looking partner who will be using the latest in visualization technology to communicate with your client.

Pro tip - you do not need to have a headset to use VR presentations, although they are the most immersive way to view something. Our VR projects can also be shared as a link.

Augmented Reality Is also up and coming with many consumers today. It offers people, the chance to preview products inside their own environment with the use of their smartphones and rendering technologies. In our VR experiences, our team can set up hotspots that allow you to have someone create an AR version of the object in their own home so they can test it to see if it will match their current design. Or just simply explore the product more. AR has the added benefit of allowing someone to accurately see the scale of the product when previewing with the tech. This can be extremely beneficial as the scale is often lost in static imagery and other visualization techniques.

AR works extremely well for those products that clients may consider 'nice to have'. Placing them in your client's own space may prove value and share your vision in a way that improves upsell. It can also help new clients feel more comfortable in their buying decisions, having previewed products in a try before they buy method like AR. It typically leads to faster sales cycles, and greater percentage upsells. One of the primary ways our visualization services clients use AR, however, is to alleviate concerns around 'fit'. Making sure all the products fit with size and scale can reduce issues upon installation and ensure all goes smoothly post-sale.
Bringing it all together in Virtual Showrooms
Augmented and virtual reality can be all brought together to create a larger product of ours called a virtual showroom. Virtual showrooms are a great way of creating an online virtual space to showcase your products and designs to people who may not be able to physically access a showroom. Not to mention saving you the cost of setting up a physical space yourself. You can even set up a space that may not even be physically possible in the real world, making it as big or as small as you want.

They are easily updated, and unlike your physical showroom, you can show each product line to the best advantage in a space suited to it. Additionally, you can choose to show multiple colors and finishes of each product in a way that you'd never have room for in your physical showroom.

In the virtual space, you can set up audio hotspots that can help better explain your products and designs to people. As well as image hotspots to show off different color varieties as well as other information that may be relevant. A virtual showroom could be something that permanently lives on your website or something that you send the clients you're interested in exploring your products more. Or who simply wants to see samples of your designs that you've done in the past. Among its advantages is that it is open 24/7 when clients begin researching possible vendors. Giving the chance for someone to explore at their own pace engages them more and allows them to think a little more about what they could see being useful in their own spaces. Allow them to make their discoveries and make their emotional connections to your products. We can help you set up the space and create something that makes sense in showing your products. As well as we can help you update it over time as you decide to add new products to your lines.

KiSP visualization services clients who use virtual showrooms report booking more meetings where they present the virtual showroom live to a client than they do in their physical showrooms - it significantly expands your geographical reach, and helps you pitch all stakeholders on a project even if some are located out of town.
Beyond Renderings
Our KiSP visualization services team comes with a lot of experience, and they can offer people with experience who are invested in your project. With deep understanding of the Funiture industry our team offers:
Consultations - Speak with our team about your vision for your rendering. What do you want to highlight and what do you want to showcase to your clients? We can help you come up with an idea That highlights the best parts of your product and makes them shine. You have a story that you want to tell, and we can help make it a more visual one.
On time and budget - It's important to us that the work we do for you is done on time and within the budget, you have set. We'll work with you to create the timelines and budgets needed to help you create the vision you want to see.
Years of experience - Our team is experts with over 10 years of experience from a variety of industries. You'll be able to see the difference in our services with our problem-solving and with your winning pitches.
Start Visualizing Your Story
We hope that you have been able to learn to live and more about what a visualization services team can do for you. With today's tech. They can create amazing, stunning imagery that can be comparable to real-life images. But beyond that, they'll be able to create a visual story for you to bring to your clients, prospects, and anyone interested in using your products or coming to you for designs in the future. Start thinking about how you can create your own visual story today, and how our KiSP visualization services team can help bring it to life. Reach out to us today.