Whether you need assistance planning for the best use of a particular space or selecting the right products to stay within a predetermined budget, utilizing a specification and design team can be a great asset for your project.

However, the specification and design space is large and there is a lot of information out there. It can be hard to nail down an answer to a question you might have. Many people go into the process with lots of questions about how this kind of service works.

We have taken some of the most frequently asked questions our specification and design team has received and come up with some answers that we hope can help answer some of your questions and offer some clarity about how the process works.

Check out our FAQs below!
How much do specification and design services cost?
When it comes to pricing models, pricing can vary from team to team. However, at KiSP we have seen most charges come based on hours spent on the project and that is how our specification and design team operates. Based on that then, the price is often dependent on the complexity and size of the project.

This allows pricing to be flexible to work for you and your organization. It also gives you the ability to work with a specification and design team on either a project-to-project basis or even as a dedicated team. Really whatever your budget can allow.
What type of software does a specification and design team use or need from me?

In your initial communications with a design team, it is important to discuss software and file formats to make sure the transfer of designs and data between teams is as seamless and painless as possible.

At KiSP, our team has a wide range of experience with many different software and programs that are used to build and specify office furniture. they are familiar with AutoCAD, CET-Configura, Project Matrix, and 2020 Technologies. Our team are experts with these programs and have years of combined experience across all these software. We will definitely be able to match you with a designer to suit your preference.


What is the standard turnaround time for a project?
Much like the cost, it depends entirely on the project itself. At KiSP with our dedicated team of professionals, for small projects, we can often accommodate within 48-72 hours. We are able to to do this thanks to our team's vast amount of experience and incorporating our knowledge of the latest technologies. However, this is something to discuss in initial communications and requires you to provide some information regarding the timeline for your project.

A design team will advise about the appropriate turnaround based on the size and complexity of larger ongoing projects and keep you posted along the process. If there is a rush, it is best to articulate that as soon as possible so a team can work with you to ensure they can complete the project for you on time. At KiSP we understand when priorities shift and turnaround times change. We do our best to meet your needs and keep an open line of communication during all times of the project.


What information does a team need to start a project?
To get the quickest response and start date for your project it helps to come in with a fair amount of information to ensure the team is properly aware of your project background. We suggest providing the following general information when reaching out to a design team for a specification and design project:

The deadline: It does not have to be "as soon as possible" or even the absolute date your bid/project is due, just be aware that the further out the due date is the more that will help a team to set the correct expectations.

A brief scope of the work is very helpful. This should include workstations, offices, and/or ancillary items plus room counts and details of what you need from the team.

The project name also speeds up the internal process of logging and starting the project with any team you reach out to.


What information/files do you need to start a project?
In terms of some specific information and files that you should have for a specification and design team, we recommend considering the following and making sure you have documents or images ready to share.


Manufacturer and series information so that the design team can choose the designer on their team with the most experience for your needs.
Visual references — Providing visuals enables a specification and design team to accurately estimate the turnaround, cost, and several designers needed to complete the project.



What kind of experience do designers/specification analysts have?
Design/specification analysts can come from a variety of backgrounds. Creativity and logistical know-how are common in this position and are key factors in what we look for KiSP for our team.

On a design team, you will find multiple design-related backgrounds. At KiSP, we have employees with backgrounds in industrial design, architecture, and interior designers. We find it extremely beneficial to have such a varied team as it allows us to cover a wider range of issues and to collaborate using the knowledge gained from many different backgrounds.

Whatever the project, the design team can help you with:
Audits
Installation Drawings
Plans and Specs
Presentation Packages
Reconfigurations
Space Planning
Title Blocks
BIDS
Visual Impression Renderings
What furniture manufacturers can a design team offer specifications for?
This differs from one team to another as each team gets to experience and gain access to different manufacturers' specs. Make sure to discuss with your design team what they have experience with and what they can specify.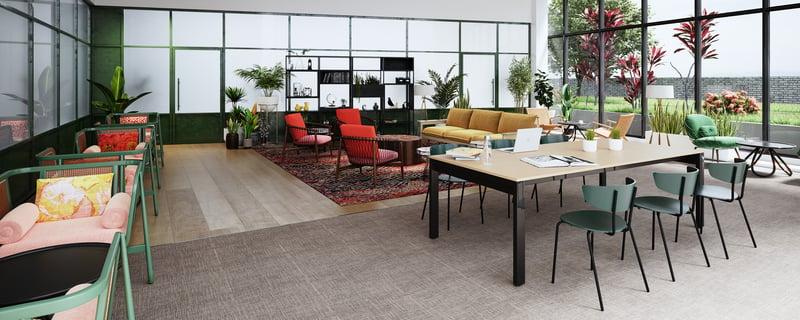 For example, our team at KiSP can specify most of the manufacturers in the industry, including the following major manufacturers: Steelcase, Allsteel, Teknion, Haworth, Global, Kimball, Gunlocke, and Inscape.

If you have any specific manufacturers in mind, make sure to bring a list and communicate this with your team.


Can a design team check a project that we built and specified ourselves?
For sure! A team can audit a project you did once you are ready to place the order.

For our team, you just need to send over the AutoCAD and BOM and we'll check for accuracy and identify any errors in the drawing and specs.

Again pricing will be determined based on time spent on this project so this is another way you can try and fit a specification and design team into your project budget.

Going forward
We hope that this list helps clear up some of the questions you might have had surrounding design and specification projects and working with an outside team. The last piece of advice will we give is to just be open in your communications and to be clear about what you want the outcome of your project to be. Good, consistent communication is key for pretty much any business relationship. We want you to be excited to work with a team and see just how much of an asset a specification and design team can be.
---
Have more questions? Whether you need assistance planning for the best use of a particular space or selecting the right products to stay within a predetermined budget, our team has the background training, creativity, and logistical know-how to get you what you need at an affordable price. If you know what you want, we will follow instructions intently and pay attention to the tiniest of details. If you're not so sure or don't have time, then we can help you find the right solution and budget. Book a demo with us today