Ecommerce regularly evolves with new web technologies as showrooms and sellers look for the best ways to show off their products - with portfolios, galleries, product pages, photos and more. These are all fine ways to provide your prospects a preview of what you offer, but they are 'flat' and lack engagement. If you're using them now, are they making you stand out from your competitors and engaging with your customers? At KiSP, we believe the best new way to preview what you and your business can offer someone is by using a virtual showroom. And now is the time to start thinking about how you can set up a virtual showroom for your dealership, showroom, or storefront.
What Engages Customers Online?
At KiSP we've seen the trends in online purchasing and shopping change drastically over recent years. But we can sum up a general shift in the desire for customers to "Try before you buy", even in ecommerce. This isn't a surprising desire. Many people are looking for confidence in their purchase and anything that can allow them to accurately preview or experience the product before spending their money is attractive and earns trust. But what goes into creating an accurate preview that can satisfy the "Try before you buy" itch? It's primarily about replicating the showroom experience with virtual showrooms.

A similar demand has been seen for more customizable shopping experiences. If your shopping experience or online presence is the same as your competitors, then you aren't going to stand out and be memorable to those considering your business. Research indicates that 80% of consumers are more likely to buy from a company that provides a custom experience.

You need to consider both customization and engagement for your site to stand out. If customers are more engaged, they become more attached to a vision of how your products fit into their lives. An engaged customer or prospect is an informed one. Reports show that customers who are engaged spend between 20% and 40% more than other customers. It is to your benefit and to your prospects to create an experience that is more engaging and interactive.

Digital Solutions Amid the Pandemic
While the trend for customized and engaging experiences online has been accelerated by the pandemic, the same desires remain in online shoppers as we emerge. During the pandemic businesses everywhere had to adapt quickly to using new digital solutions for things that had never been done virtually before. It was a time of uncertainty as there was a lot of change, and businesses had to experiment to find a solution that would satisfy the needs of their customers. Despite all the uncertainty, it was also an extremely creative time for problem-solving as people worked together to find workarounds. In the end, people made it work and we have some new services offered across multiple industries that probably won't be going away anytime soon.

Despite the pandemic being the catalyst that caused all this change, we honestly think that many businesses were heading in this direction already. The pandemic simply accelerated businesses toward the digital landscape. We are now at a point where digital solutions adopted during the pandemic are not going anywhere as the workforce and public had now adjusted and found lots of new benefits in today's more remote work environment.

The world now and the reliance on remote tech
While the effects of the pandemic still linger and will for some time, a lot of the changes that occurred during this time of change are looking like they are here to stay. Because of this, it could be seen as a barrier if a sale requires a customer to visit a physical location such as a showroom. Having a comparable digital solution such as a virtual showroom is a great way to meet this need and still provide your customers with a detailed preview of your products or work.

Virtual Showrooms: What are they?
Let's break down what virtual showrooms are now. For a broad definition, virtual showrooms would be the virtual equivalent of a product floor, say in a dealership or retail setting. They are designed to be a more interactive experience than a product page and have unique design/UI elements to make them stand out. There are several different ways to create a virtual showroom, but the idea is to offer someone the same guided experience they would have if they had stepped into a physical showroom.

Who Uses virtual showrooms?
It would be hard to pinpoint where the very first iteration of a virtual showroom took place, but one of the industries that have always looked to create unique online showcases of their products can be found across the automotive industry. This likely occurred due to the high purchase price for new vehicles. To ease customers in and build trust in their online explorations of their products, automotive industries took the time to create unique online shopping experiences to mimic the ones in their physical showrooms, but which customers could engage with 24/7.

Nowadays, we are seeing this same level of investment in the curation and creation of online shopping experiences across a multitude of industries. As businesses become more aware of the opportunities to stand out online, they work to create their own experiences.

Examples of Virtual Showrooms

Over the past few years, we've seen a big rise in virtual showrooms and some exciting new iterations that are worth mentioning.
Automotive – Toyota
Toyota has taken a very literal approach to the showroom aspect and starts by inviting you to "Step Inside" their virtual showroom. It then places you in a 360-degree view where you can see all the current models of their cars. You can pan left and right and get your first impression of the vehicle. By clicking on one, it brings you to a full 3D model of the vehicle that you can explore and take stock of all the features available. It also has quick links for scheduling a test drive near you to push that funnel of sales. As we said, the automotive industry has been doing virtual showrooms for some time now so they have nailed down their experiences and are one to emulate.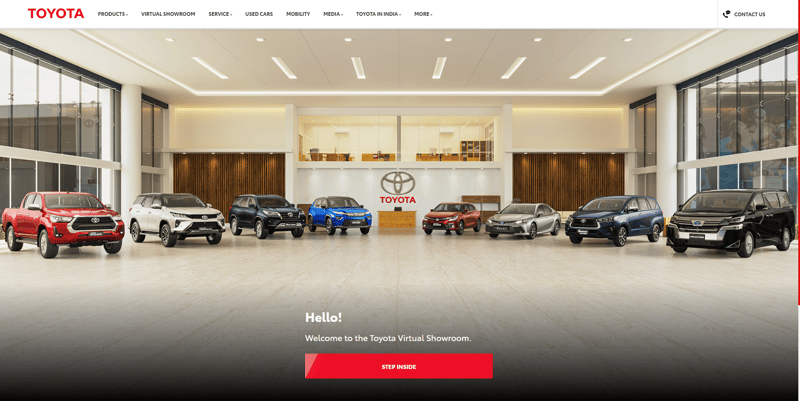 Toyota's online virtual showroom (Image credit: Toyota)


Electronics – Dyson
Dyson, known for many of its high-end home appliances such as vacuums and hair care tools last year released an application for Meta VR devices that would allow them to access a virtual reality version of a store. The app allowed users to manipulate virtual 3D versions of Dyson products and even get to demo some of their features with the use of virtual controllers. This is a great way for all people to "Try before you buy" with the man of their products


Watercraft - Malibu

At KiSP we had the opportunity to create a virtual showroom for Malibu, a watercraft manufacturer. We created a space that you can explore and interact with either in VR or on a desktop. In this showroom, you can interact with multiple hotspots including videos that explore the watercraft features. We also added audio hotspots with guides from product experts and other views that allow you to get a sense of what it actually might be like to be on one of these boats out on the water. At KiSP, with our virtual showrooms, we have lots of different features that can be added to your virtual showroom. In the end Malibu saw a 40% increase in leads with the implementation of their virtual showroom. A great response to the new feature.

Why Should You Consider a Virtual showroom?
Now that we have a better understanding of what a virtual showroom is, we can start to consider the benefits and features of having a digital showroom. The features that can be included can vary but there are some universal pros across the many different types of virtual showrooms. Let's break down some of the main benefits and features of virtual showrooms such as the ones we can create here at KiSP.

No Physical Limitations
One of the first benefits is probably the most obvious one. If you decide to create a virtual showroom, you no longer have to take into consideration the logistics of renting/owning a physical space to house your showroom. There are no worries about maintaining a space, having the staff there, or hoping you have the amount of space you need to properly showcase all the products you want.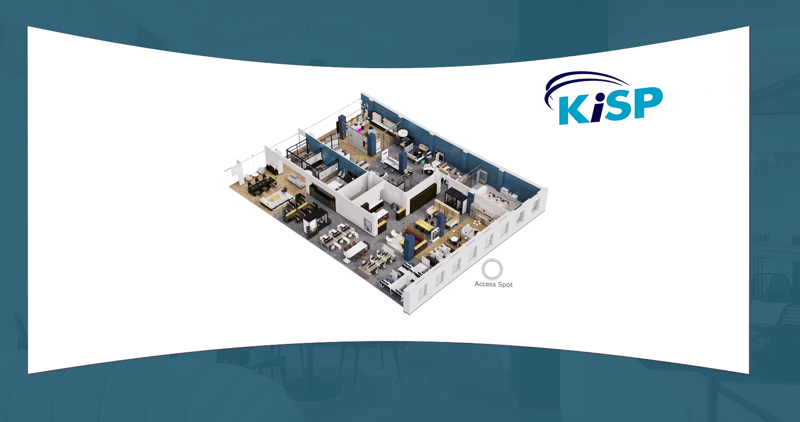 A high-up view of a KiSP virtual showroom

When you use a virtual showroom, it's really up to you how much you want to showcase. You can decide to create a vast online showcase that gives attention to all your products and work. Or you can hone in on certain projects and create online showrooms that highlight your intentions or ideas of how the products can be used. Let's say you want to have a virtual showroom for furniture. You don't have to worry about if you have enough space to fit all your displays or if things will look cramped or not. You can easily expand your virtual space and make sure it is included. Also for furniture, you can easily pair up your products to create the different workspaces you intend them to fit into. This can more easily inspire your prospects and get them excited about how they will use the product themselves.

Update More Frequently and Easily
When you use a virtual showroom and you work with a visualization team like the one here at KiSP to help you put it together, you can treat it like a live version of your catalog. In a virtual environment, it's very easy to update it more frequently and always be showcasing the latest products from your line. As said before, it is much easier to open up your virtual space and include new products than doing so in a physical space. All we need at kisp is the product information such as the CAD specs and then we can easily incorporate your new products.

Renders Instead of Photography
Another cost consideration that goes into any product is photography and visualizations of your product. If you were to use photography to create your product showcases, there are many considerations that you suddenly have to deal with now. Photographers, lighting, studio space, etc. When you use a virtual showcase such as the ones we create at KiSP, we create stunning renderings of your products that are extremely lifelike and can be tweaked to make your products just as appealing as they are in the flesh.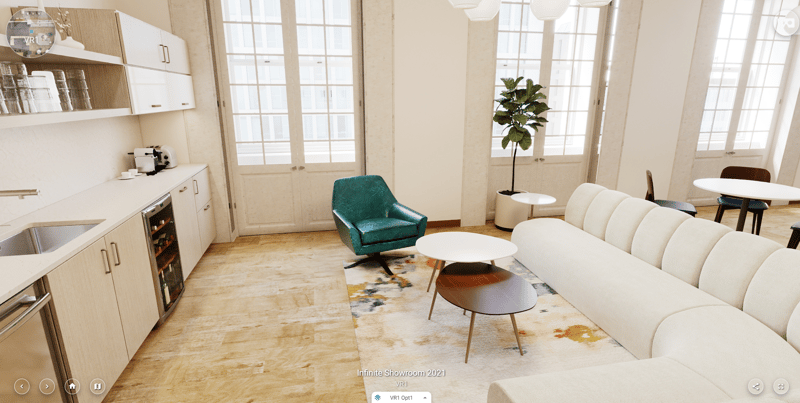 A good look at how realistic a KiSP rendering can be

VR and AR
When you also use a showroom that incorporates tech such as VR and AR, you can take that visual experience even further with your prospects. You can give them that extra dimension in VR and they can get the best sense of scale when they use it. And with AR they can get access to yet another interactive element that gets them to engage with your product.

In KiSP's virtual showrooms we set up viewpoints for VR so that clients get a chance to view your products from multiple angles and check out your wide variety of projects. However, VR is only an option, and your prospects can still explore your showroom on a desktop or mobile app.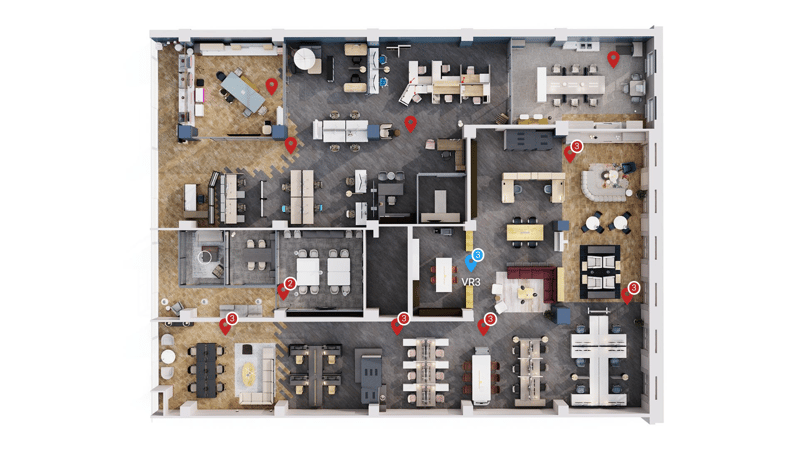 An overview of viewpoints in a showroom, viewable in VR

We can also include AR hotspots on specific projects. Users would simply click on the hotspot for the product and send a link to their mobile device to access an AR version of your product. They can try and see if the product would fit in their own space or just explore it further.

Share Your Products More
With a physical showroom, you do end up limiting who can come to see your products based on proximity to your showroom. Do they live nearby? Or will you have to hope that they will make the journey to you? If you choose to use a virtual showroom, you can more easily share a product showcase with anyone, no matter where they are.

In that same vein, if you create this virtual tool you can use it in a lot of virtual settings. You can easily share the showroom with your prospects and then set up a remote meeting to walk them through your product lines. Think of it as a guided tour in a virtual space.

With a virtual showroom, you open up a lot of options for how you can use it with prospects and potential customers. You also give them more options about how they want to explore your products in a creative, engaging, and unique way.

KiSP's Virtual/Infinite Showrooms
At KiSP we have one of the most experienced visualization teams who can create and showcase visualizations of your products in stunning displays and renders. If you decide to use KiSP to create your virtual showroom, you will have access to this wonderful team and get to see your products come to life in a way you haven't seen before. Along with the visualization team, you also will get to work with our consultant team who are experts at planning out spaces and making sure your vision comes through on time and within budget.
---
For more information on KiSP's visualization services and virtual showrooms, or to sign up for a consultation today, visit our visualizations services page here. To learn more about why virtual showrooms are here to stay check out our article here.