Virtual showrooms have been a great solution for many manufacturers and designers during this recent period where we continue to see an increase in people working remotely. It offers them the chance to present their products to clients not willing or able to meet in person and offers solutions to those who want to see their designs come to life safely and enjoyably.
With the world returning to what some might call a sense of "normal", we are seeing a slow increase of people returning to offices and certain retail spaces reopening to the public. One might think that with this return the need for virtual showrooms might dwindle with this change, however, that is not the case.
Below we outline three reasons why the virtual showroom is here to stay and will play a crucial part in the future of our industry
1. Virtual tools for a virtual world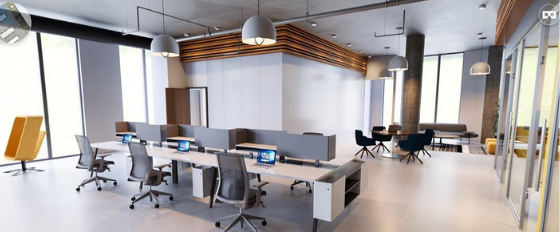 The mass switch to a more remote/virtual world only sped up a process that was already well underway in this industry which is a greater desire from buyers to better see and understand how their newly designed spaces can look before committing to the purchase.
Along with this, many clients and consumers have gotten used to the virtual advances in the business world that became necessary over the past couple of years. Offering remote options to clients can help cut down on costs and time for them, especially when it comes to meetings. Many clients have gotten used to the virtual conferencing tools many of us have used over the past couple of years. Virtual presentation tools such as a virtual showroom can help meet these new desires and provide clients with an alternative if they are still hesitant to meet in person.
Our industry may be slower to adapt to the advances in technology, but that is how the world is progressing. Make you and your team stand out by being early adopters and acquiring virtual solutions for this virtual world.
2. Share designs and help ease the quick expectations of today
In today's world, a consumer has multiple avenues they can go to find the products they want and receive them quickly. It can be hard to meet their high-speed expectations when it comes to showcasing your products. However, having a virtual showroom can help manage those expectations by giving your clients and customers the closest thing to seeing it in person right away.
By creating and showcasing your designs in a virtual showroom you offer an easy way for clients and consumers to more easily visualize the ways they can see themselves using your products. They get a much better idea of the scale, dimensions, and even how it can look along with other products. It's a quick and easy inspiration and satisfies their imagination on a much higher level.
By using a virtual showroom, you can start meeting client demands right away. Even if a product or a design is still quite some time away, with a client/consumer having these virtual showrooms as a resource can help make the wait a little more bearable and provide them with perspectives on the products they can't wait to receive.
3. Maximize convenience and minimize cost with endless creativity
It can be a major issue when a product is finally received by a client and it doesn't quite match their expectations or preconceived notions of what it was. Maybe the color is off, or they didn't realize just how small or big the product was. It can cause frustration and not to mention a delay in them finally being satisfied with delivery and installation.
Virtual showrooms can do a better job than most catalogs can at showing the scale and truest representation of the product in the real world. You can create a showcase in a virtual environment closer to what a client expects. You can help answer questions such as "What would this chair look like in an office as opposed to a classroom?" You can set virtual showrooms up to showcase several models of furniture with variations in color, material, and more.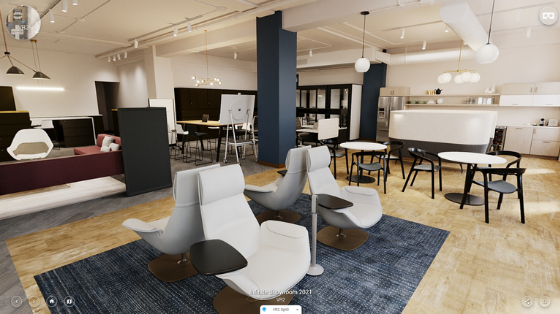 With the open-ended design capabilities of a virtual space, you can create spaces that reflect what your client desires and immediately offer them a convenient way to preview products that are truly impactful and immersive. And a virtual showroom experience can be even further improved if you offer tools such as AR and VR to those interested in viewing them. Finally, you can cut down on costs and negative feedback that may come from a client not happy with what they receive by providing the clearest picture of the product possible.
Don't hesitate to join in
Virtual showrooms are not just a tool that was adopted to get us through the pandemic - but rather have long-reaching potential. of the last couple of years. With their benefits and convenience for clients/consumers and the demand for more virtual/remote tools, virtual showrooms are here to stay. It's time for you to become an early adopter and put yourself at the forefront of the industry.
---
Want more tips, tricks, and considerations on how you can continue connecting with clients while working remotely? Click here for a FREE resource on 5 Ways to Enhance Your Meetings & Connect with Clients Virtually. For more information about Infinite Showroom or to get started today, you can contact us at renderings@kisptech.com or give us a call at 416-499-2457 ext 2741.