With the recent rapid global outbreak of COVID-19, almost all business events and conferences have been cancelled due to current health concerns. Even organizers of NeoCon, one of the most highly anticipated commercial design events of the year, have decided to cancel their 2020 tradeshow to help reduce the risk of transmission of the virus. With so many uncertainties and unanswered questions, world governments and medical professionals have severely discouraged meeting in large groups. The latest update from the United States asks citizens to avoid gatherings of more than 10 people.
This unprecedented shift has proven to be a difficult time for many brick-and-mortar businesses, as even here in Ontario the closure of all non-essential workplaces for 14 days effective March 24th has been ordered. And with manufacturers making the tough decision to close their doors to their showrooms, there must be an alternative that can continue supporting their business during this time.
With many industries moving online, the question manufacturers are asking is how can they continue to showcase their work in a remote working environment? Infinite Showroom is an online virtual showroom where manufacturers can show off an infinite number of product solutions and configurations. Offering a virtual showroom allows prospective clients to experience your products in a unique and engaging way. So let's explore how exactly Infinite Showroom can utilize the power of VR to empower your business today.
Visit Anytime Anywhere
Brick-and-mortar showrooms have their pros and cons. Physical showrooms allow you to leverage face-to-face interactions with your clients as well as associate a face to your name card. Plus, in-person interactions have the added benefit of access to your client's body language and tone, allowing for a more accurate assessment and response to their needs.
However, the biggest con of physical showrooms is the issue of accessibility. For one, both you and your client's schedules have to align. It's very rare that both you and your client are free the following day to meet physically in your showroom. The downside of needing to find the right time and date that will work with both parties is that your client may not be able to see your line of products until 2 weeks time. Especially with the new regulations surrounding social distancing, it is up to companies to do their part in preventing the spread of the virus while maintaining their excellent services. Life and business are both equally unpredictable, so relying on physical showrooms can end up drawing out the sales process even further.
Virtual showrooms offer the perfect social distancing solution as it is easily accessible anywhere anytime. As Infinite Showrooms are hosted online, your clients don't have to wait a week or two to take a virtual 'tour' of your showroom. Plus, since Infinite Showroom is hosted direct from their Internet browser, your clients won't need to leave their house to continue moving forward with the project. All you have to do is to send the link via email or text message and allow them to explore your showroom in full 360-degrees.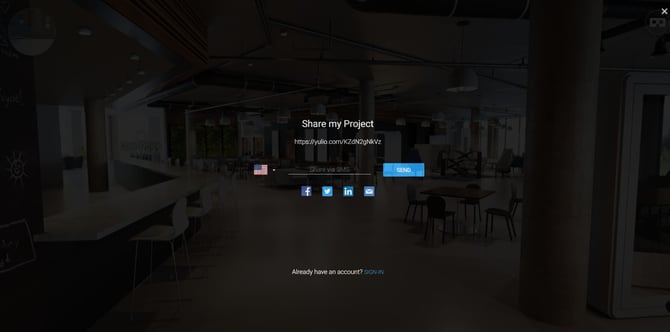 Sharing is easy with Infinite Showroom. Copy and paste your unique URL or even share it on social media.
Display Products in Unlimited Space
No matter how much space you may have, a showroom will still have its own physical limitations. While you can always re-arrange your showroom to highlight a type of finish or to accommodate your latest line of products, a physical showroom can never show off all of your solutions and its configurations. Without enough space to showcase all your products, you run the risk of missing a potentially larger sale. Furniture shopping is a highly visual experience, driven by inspiration. Virtual showrooms are able to facilitate the full range of a client's imagination to help you close bigger than you were anticipating.
At Yulio, many of our clients have faced the same struggle of limited space. Plus, we understand the challenge of carefully selecting the right products in the right finishes to showcase in your space. With Infinite Showroom, be prepared to unlock an endless amount of possibilities. Without the limitation of physical space, your business can create a showroom for each of your business verticals. Whether it be adding new products at any time or showcasing your most popular solutions in all the different configurations, colours, and sizes - virtual showrooms create endless possibilities for you and your business.
Saving Costs
Building samples to your client's specifications is a natural next step in the sales process. Clients want to make sure that the fabric swatch and finish they select for the furniture solution is exactly what they envisioned. Likewise, manufacturers want to meet that vision and have the option to make changes before heading into production. However, creating samples isn't cheap and can be a very wasteful step. Since samples are created only to be destroyed after receiving the final approval or points for revision, the resources spent on building them will be wasted.
Infinite Showrooms can help support you in the sample stage. Infinite Showroom offers unlimited product display and is accessible to editing at any time. With boundless options, Infinite Showroom offers you the ability to create any number of virtual samples to your client's specifications. And while there is a cost attached to creating your virtual showroom, the reduced billing is nominal in comparison to the costs associated with constantly building new samples.
A Solution to Unexpected Barriers
We understand that a mark of any successful manufacturer is their ability to continually grow and innovate new products. Whether it be improving on the ergonomics of a configuration or investing in creating a line that upcycles leftover resources from other pieces, manufacturers are always looking forward to creating solutions that will be better than what we have today. However, there are countless phases a piece of furniture must go through in order to transform from an idea into a reality. One roadblock in the process can cause major delays, impacting production, release, and shipping dates.
In order to ensure both manufacturers and dealerships are able to continue selling despite any minor or even major setbacks, virtual showrooms are a great solution to show interested clients what they can expect in the new release. With the unlimited potential of Infinite Showroom, there is always room to grow and build new spaces as your business grows too. Plus, engage your clients in a memorable experience by adding a virtual 'tour' of your showroom in your portfolios. The beauty of Infinite Showroom is as the name suggests, there are infinite ways to use your customized platform.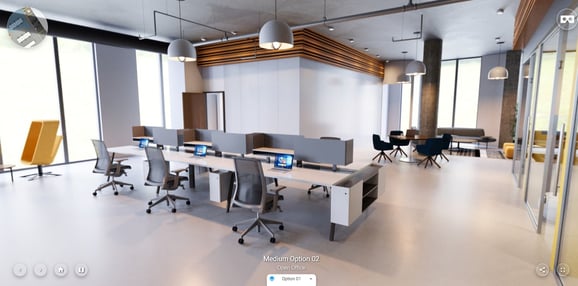 Use Infinite Showroom to excite your clients about a brand new line of products.
Infinite Showroom: A Future-Proof Solution
The rampant spread of COVID-19 has been a call to action for all businesses in every industry to reevaluate current workflows and processes. The disruptive shift to remote work has guided companies to identify large blind spots that have gone undetected for far too long. Too often we assume that business can and will continue running as usual, but the global response to COVID-19 has taught all of us a lesson in remaining flexible and investing in current solutions supporting remote business options.
While virtual solutions have grown in popularity popular in the past few days, Infinite Showroom is not just a stop-gap solution. Having a virtual showroom on hand is an effective tool that can support your current workflows and operations. As Infinite Showrooms are hosted directly from your browser, businesses can remove the barrier of accessibility and allow prospective clients to explore their product lines anytime, anywhere. With including a unique and engaging experience, cultivating an effective word-of-mouth reputation that we have found is most successful in the furniture industry. So don't get left behind in this unlimited digital era. Start creating infinite possibilities with Infinite Showroom today.
---
Want more tips, tricks, and considerations on how you can continue connecting with clients while working remotely? Click here for a FREE resource on 5 Ways to Enhance Your Meetings & Connect with Clients Virtually. For more information about Infinite Showroom or to get started today, you can contact us at renderings@kisptech.com or give us a call at 416-499-2457 ext 2741.