An online experience or marketplace is commonplace in almost any industry today. People like to research major purchases online for the sake of convenience and to save time traveling to physical store locations, so it makes sense that e-commerce is one of the most important channels for any business. But, how do you make an online experience engaging and stand out from the rest? Web Configurators are an increasingly popular way for businesses to create engaging online shopping experiences for their consumers.

Configurators are online tools that you can add to your online presence, allowing consumers to preview and customize your products before purchasing. There are many different types of configurators out there, but the main goals of creating one are to:
Create an engaging interactive experience with a customer that they can't find with other sites offering similar products
Offer customers a greater sense of choice and freedom when it comes to their purchase
Provide consumers with the most detailed preview available, so they get the best understanding of the product they will receive
How do configurators achieve this goal and create an engaging online shopping experience? We have a breakdown and examples from the KiSP Configurator Tool.
Configurators Create Engaging Experiences for Buyers
Consider the average online shopping experience. Someone goes to an online marketplace or company website and finds a product they might want to purchase. They visit the product page where they get more info about the product and can click through a series of photos or still renders of the product. It is then that they have to decide if the product is right for them and whether or not they will make the purchase. In most cases, there isn't much of an interactive element and the experience has a static feeling to it. In the end, this can lead to a less memorable and less impactful shopping experience and dreaded abandoned carts

By introducing a configurator into your online sales experience, you introduce an interactive element. We know that with any sale, an engaged audience is more likely to consider your product. Reports show that customers who are engaged spend between 20% and 40% more than other customers. It is also said that if an audience is engaged, they are also informed.

An engaging configurator makes their experience more memorable and stands out compared to others. Configurators get their mind thinking about the product more as they interact with it and because of that, they may come up with questions about the product they wouldn't have had previously.

Reports also state that 67% of customers prefer self-service during their shopping experience as opposed to speaking with a sales rep. By implementing an engaging configurator, you can help meet this preference. But make sure to still have lines of communication should questions or comments come up during their decision process.
A Pre-sales Pipeline
One other benefit of including a configurator on your site is to add another funnel source for leading prospects into your sales process and even streamline that process.

A customer who is interested in finding a product can come to your site and start to explore your products through your configurator. They can experiment with the custom options themselves and see what features, colors, finishes and accessories they want. They can learn a lot by themselves and get a better sense of how one of your products can be the solution they are looking for. And they can get more attached to the product which they've made their own. We've talked about how a customer using a configurator is engaged, but they aren't only that, they are also informed.

A more informed customer can get the info they want out of a configurator and come to your sales team with the information that you need to start building upon the solution they've found. If they've explored the product in a configurator prior, they will have a better understanding of the accessories, customization options, and finishes. When you bring this up and their options, they will have a familiarity that will make the sales conversation go more smoothly and allow for clearer communication. In the end this makes the sales process more efficient and easier for both the costumer and your sales team.
A Customized Experience and Product
There has been a rising desire among consumers to have more choices and customization when it comes to making purchases online. A recent study from 2021 by e-commerce technology company Zakeke shows that 41% of consumers are looking to have a much more personalized experience when it comes to their digital shopping interactions. A configurator is a great tool for businesses to help meet the needs of customers looking for this personalized shopping experience.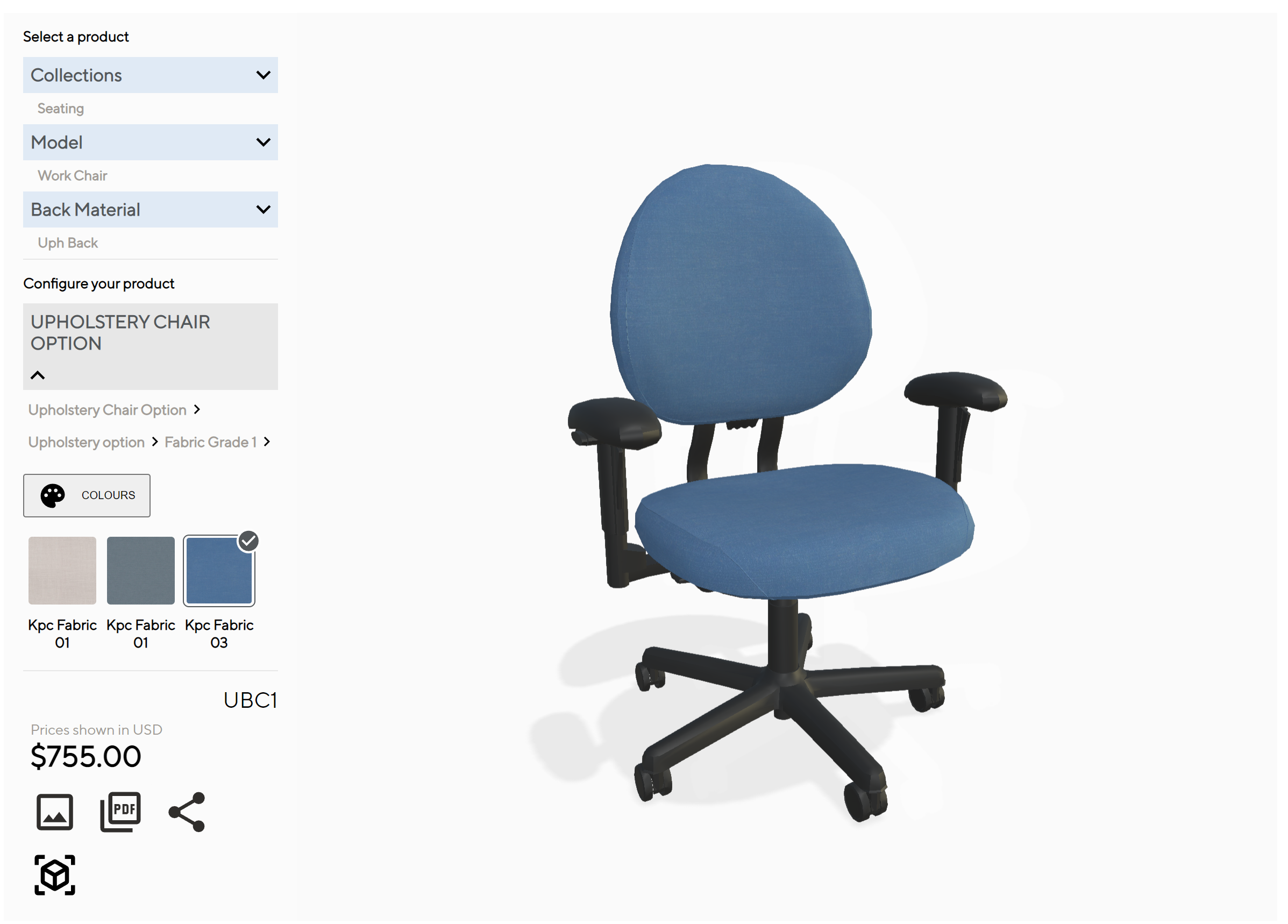 An example of a furniture configurator that offers lots of choices for consumers
This does rely on you actually having options that customers can choose from. But offering an intuitive way for customers to select the materials and options that a product with an easy-to-use interface is an easy way to make a customer feel like they have more choice and freedom in their purchases compared to retailers who don't offer configurators. They will feel more secure in their purchase as they are the ones making the choices and setting the product up rather than relying on the base options available. In the end, they will be happier with the final product.
Give the Best Preview
It can be unfortunate when a customer receives a product and the product preview didn't provide an accurate representation and they are left disappointed and less confident in their purchase. An advantage of configurators is that they can provide consumers with the most accurate preview of the product as opposed to traditional e-commerce visualization methods. Most configurators offer multiple viewpoints when viewing a product that allows consumers to get the best look at your product and see all the customizations they made. Some configurators offer better views though.

2D configurators are configurators that offer multiple visual renders or sometimes a 360-degree view of the product. However, a 3D configurator like the KiSP configurator gives consumers a 3D model of the product including all the customizations they've made. They can rotate and view from whatever angle they please. They can even zoom in and out and view things in greater detail. It gives consumers the best idea of all the components of the product and a better idea of the product they are going to receive, lessening possible friction when the product arrives.
Get Customers Engaged Now
We hope this article has helped show you how configurators can engage customers and provide them with a more personalized experience that makes them confident in their purchases. Consumers want more personalization in their shopping experience and putting the power in their hands to create and customize their products to fit their needs is a powerful tool that will make them remember you and your products.
---
Looking to get started with a configurator for your furniture products? Head on over to our new configurator service now available at KiSP. Learn how we can help build an online digital tool that helps facilitate sales and puts the power to create into your client's hands. 3D Renders and AR experiences can be included in this powerful tool.