Ecommerce in North America alone generated more than 1.5 billion in 2021. Consumers are shopping more online and looking for new virtual shopping experiences to ensure they get the products they want, delivered. Many businesses have adapted and created online storefronts and ecommerce platforms but the real winners in the space are those who go further, constantly innovating to keep up with the changing needs and priorities of consumers. One of the most effective ways to supercharge your online sales engagement is with a product configurator. We'll discuss why it's important, the key differences in configurator types and how to get started, below.



Engaging Today's Online Buyers
While online shopping started with consumer goods that were easy to ship, the trend has expanded to all kinds of complex products being purchased, or at least shopped for and consider, online. Buyers aren't traveling to retail locations or showrooms as much, a trend that was accelerated by the pandemic. According to a study, from the beginning of the pandemic in March 2020 all the way to February 2022, U.S. consumers spent $1.7 trillion in eCommerce, $609 billion more than the previous 2 years of 2018 and 2019.

However, consumers still want to get the best preview of the product they are buying - "try before you buy" is still applicable to online purchases and with fast shipping and free returns from companies like Walmart, Amazon and more, customer expectations are that they should be able to do so. The challenge is providing this useful service in a compelling way through a digital medium.

Customers are looking to replicate a personalized shopping experience online without retail visits. A recent study from 2021 by e-commerce technology company Zakeke shows that 41% of consumers are looking to have a much more personalized experience when it comes to their digital shopping interactions. However, a digital storefront is created to appeal to a wide set of people, so businesses must consider how they can cast a wide net while still making personal and custom experiences.
The Solution Offered by Web Configurators
One of the most popular ways businesses are creating personalized shopping experiences and interactive showcases of their products are through web configurators. A web configurator is an online tool that customers visiting your site can use to customize a preview of a product. A configurator can look very different depending on the type of product it is being used for. They may offer unique user interfaces and visualization methods to render product previews. Having the client or customer be the one who makes the choices that go into customizing a product makes them feel like it is being tailored to them and instills a sense of trust in their own decisions and the purchase.
The Evolution of the Web Configurator
Early versions of configurators have been part of online retail for a long time because they are so valuable in engaging clients. Typically these were static 2D configurators similar to what you might find on clothing sites or some large box chain stores. They are simple and static and offer up only prerendered imagery, such as product photos from a single angle. They still may offer some customization, but it is limited. It is sometimes obvious that the same image has just been re-colored to show some options, but they are not very accurate.

Some manufacturers, especially those in the furniture industry, have seen the need for more advanced configurators so that customers can select from the many custom parts that can go into a piece and have looked for configurator tools that can meet their needs. Due to the number of variations that can go into a product, a configurator that can update to show all the choices being made is necessary. Thus, the need for a more advanced and customizable configurator and less reliance on pre rendered imagery.

New technology is making more complex three-dimensional configurators a realistic prospect for the contract furniture industry to improve e-commerce channels. It's important to understand that the images and product data used to build the configurator can be created in a few ways - and these have significant impact in how your configurator works long term.
360-degree photography
There are a few different ways that 3D configurators are built. In some cases, 360 photography is used to create a three-dimensional view of the product. Meaning that a product is photographed from all 360 degrees around it. This allows the customer to rotate the product and view it from multiple angles. We have seen this technique used often by car manufacturers and furniture retailers. This offers a much better look at the product than static imagery and still provides realistic images. However, there are still some limitations as often the rotation is stuck to one axis and is reliant on how intricate the 360 photography is as you are limited to pre rendered product imagery. Since it is photography based, it can be challenging to accurately photograph every possible combination a client might select, so this option works best for products where there aren't too many customizable variables.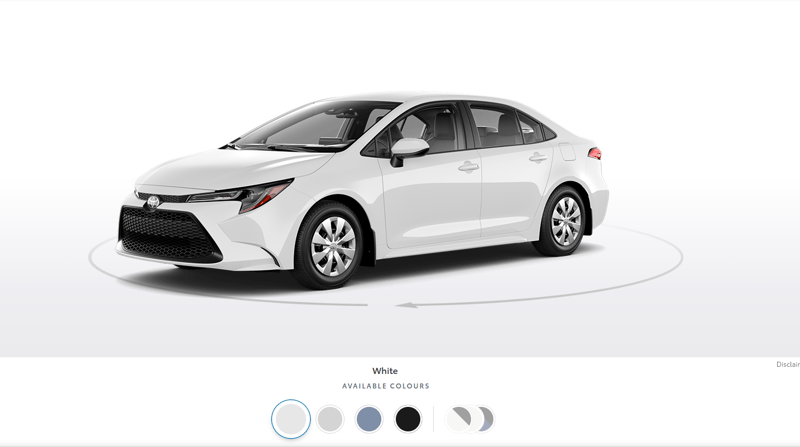 Examples of 360 Degree Photography can often been found in autmotive configurators like this. (Credit: Toyota.ca)
Pre-Rendered
Like photography based configurators, you'll find some in the industry use pre-rendered images. This means that someone has created multiple renders of the product from specific camera positions or angles, and with a certain number of customizable options. The limitations here are that the configurator isn't truly customizable, but rather can only 'stop' at the pre-rendered positions if a customer is rotating a product and only show the rendered combinations.
3D Product Data
There are other versions of 3D configurators that don't rely on any pre-rendered images at all. Like some design programs, they offer up a digital 3D image built from product data. These 3D renders offer a lot more freedom in how the product can be configured as the customer can swap out pieces without you having to make sure you have a pre-rendered image to showcase that option. There are also few limitations on where they can view the product from in one of these renders. It is the most interactive and accurate way to preview the product, and is ultimately the most efficient to update as each piece of product data can be created and added or removed.
Creating Product Data for Configurators
Just before we discuss our KiSP Product Configurator, a quick note on how they are powered. Complete product data is key to creating the 3D models that power a configurator. Product data is made up of 3 elements:
3D CAD models - the technical drawing or spec of your product
Swatches - Color, fabric or finish swatches associated with the product
Product Information - the descriptions, pricing and other text data associated with your products.
If you do not currently have complete product data, it is worthwhile to undertake a project to bring all your products into full data. This data can be used to create not only your configurator, but also opens a world of marketing opportunities including VR/AR, 20/20, KITS software, and images for brochures and websites without full photography.

KiSP offers a free data creation tool, Entity where you can build your data yourself, or get help on the project from our CAD services team to create or complete your data.
The KiSP Product Configurator
The KiSP Product Configurator is a 3D configurator that offers a way for clients and customers to interact with a rendering of any product and make the custom choices they want. Using our knowledge of the needs of the furniture industry and our long history with visualization methods and high-quality renders, VR, AR, and more, we build configurators for businesses to help showcase their products to full advantage. We offer up unique features that make The KiSP Configurator stand out from other configuration methods that will instill trust and encourage engagement among a client base.
Customizability
One of our main goals with the KiSP Product Configurator was to allow for an unparalleled level of customization and flexibility that is appropriate to the complexities of contract furniture. Our configurator is based on product data to show every option, every angle, size and more - including furniture groupings. Users can customize each product and move them further down the sales cycle before contacting sales. Users select from simple drop down menus and thumbnails to build their products, updating fabric options, wood finishes, metal finishes, leg options, cable management, physical size of tables etc. and many more product options.

Using this tool, customers can try on each option in your catalog with the added benefit of seeing a render of all their chosen options immediately. It offers the best way to meet the rising need for custom shopping experiences while creating simple tools you can update.


Easy to Use UI
The KiSP Product Configurator offers high quality visuals, but certainly does not require your users to have design knowledge. The UI offered along with the render is easy to understand. The drop-down menus are intuitive and well-labeled and interacting with the rendered product is simply done by clicking and dragging with the mouse. Despite the simplicity, it still allows for a deep level of customization. There was no trade-off in the level of customization in creating something accessible.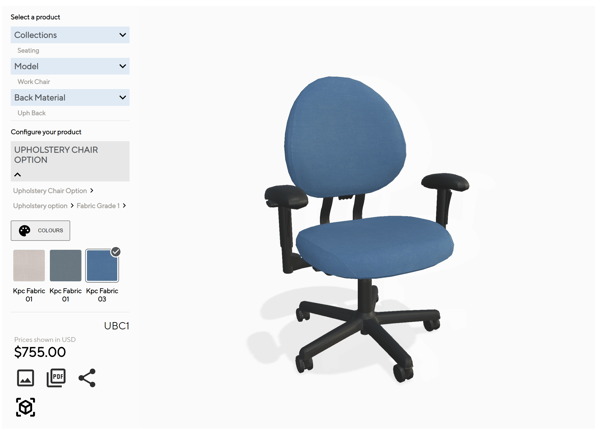 Shareability
The KiSP Product Configurator allows you to easily build and then share a custom piece of furniture or save it for your own reference. A client can build a product and then share a link to it with a colleague or decision maker at their organization who can then come in and explore the created product making their own changes and edits. They can be shared by either text or email for easy access.

It's important to offer a collaborative approach to customizing products especially when it comes to ordering furniture that could be purchased in bulk. Many people will be working together to create the space they want and having an easy way to share designs and products is paramount.

A non-editable image can also be created via a PDF image which can be downloaded but the user can share. The PDF is a snapshot of the product and associated details. The exported picture will include high-quality textures, lighting and realism.
Quick Spec Sheets
Once a client has gotten to a point where they are happy with a product and have chosen all the necessary parts of the product, they can quickly generate a spec sheet that offers up a lot of information on the product. There will be a recap of the selections they made when customizing their product (handy if sharing with others). As well there is a price breakdown, showing how their custom choices have impacted the overall price. It's a great piece to share with others to see where the product fits within their budget and then make decisions.
Augmented Reality (AR)
KiSP is known for high-quality visualizations and for taking advantage of the latest technology to create realistic images of your products. With the configurator, you have a few ways of viewing the product you are creating. Augmented Reality (AR) is still a unique option for many clients that lets them place a configured product right inside their own space. Use our simple AR tool to create a shareable AR version of your product that you can then use on a mobile device to view what it might look like in any space. It will accurately scale the object so you can get a sense of where it will fit and how it will work in your current setup. Share the link with others and they too can try it out. We find AR to be an especially engaging tool and while it helps clients and consumers better visualize and understand products, it makes a memorable impact and can leave a lasting impression on those new to the tech.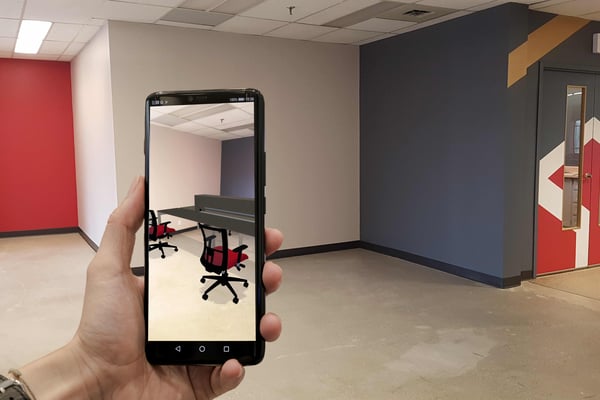 Low cost of Ownership
KiSP's configurator was designed to allow anyone access to today's visualization technology and allows you to break the project into pieces. Start your configurator with a single product line or a few products, and add pieces over time. Our low monthly costs let you get started for less than you might expect.
The Impact of Web Configurators
Now with a better understanding of what a configurator is and the features they offer, let's look at the impact they can have on your business.
Customer Trust
With changing customer habits, there is a rising need in customers for these types of online shopping experiences that can feel more personal to them. Since they are the ones configuring the product, they will feel more confident in their decisions and their purchase. You are giving them a lot of power when you let them pick out their options, and it builds trust between consumers and businesses.
Customer Engagement
Reflect on the average online shopping experience. A consumer visits an online marketplace or the company website of a retailer and finds a product they might want to purchase. They visit the product page, get more info about the product, and click through a series of photos or still renders of the product. There isn't much of an engaging experience here and it all has a static feeling to it. And, it asks the client to 'picture' any changes like finishes or fabrics. In the end, this can lead to a less memorable and less impactful shopping experience and abandoned carts.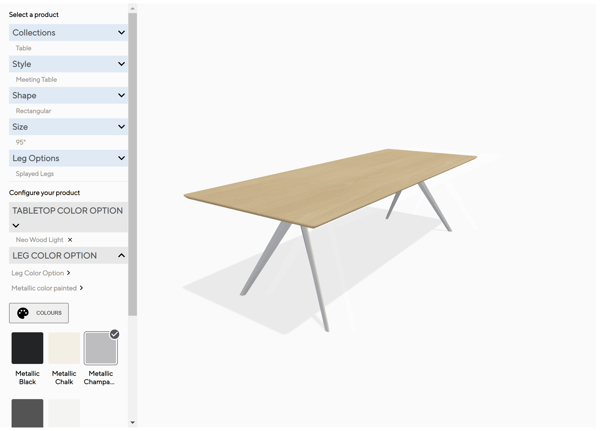 By introducing a product configurator into your online storefront, you introduce an interactive element. We know that with any sale, an engaged audience is more likely to consider your product. It makes their experience more memorable and stands out compared to others. Ecommerce studies show that the sweet spot for time spent on a product page is 50 seconds to increase product purchase probability. Having a configurator is a great way to get the time spent up to that time.

Configurators get their mind thinking about the product more as they interact with it and because of that, they may come up with questions about the product they wouldn't have had previously. They could lead them to reach out and start a conversation and get a chance to build a better relationship with you.
The ROI Power of Configurators
With the KiSP Product Configurator, we offer a lot of flexibility to make sure it can fit into your budget and allow you to get a quick return on your investment in this tool. Get started with a single product or product line. You can always add on as you go and test what works. Our team can work with you to develop a product plan that can help you generate fast ROI.
Bring Your Customers the Best Buying Experience
With all of the different kinds of configurators that exist in the digital landscape, you'll want to investigate the many features and costs that they can bring to the table. The bottom line is that consumers want more personalization in their shopping experience and putting the power in their hands to create and customize their products to fit their needs is a powerful tool that will build their trust. And with more client trust and a solid product plan, seeing a return on your investment will come much sooner than you think.
---

Looking to get started with a configurator for your furniture products? Head on over to our new configurator service now available at KiSP. Learn how we can help build an online digital tool that helps facilitate sales and puts the power to create into your client's hands.