Around the world, countries have passed or are closing in on one year since the COVID-19 virus hit their shores. Overnight, businesses and professionals had to make drastic changes to their workflows and everyday processes in order to adapt and overcome current circumstances. Offices and showrooms had to close their doors, employees had to set up their desks at home, and everyone had to transition to a time of remote work that seemed to have no end. If there was one lesson we all could take away from the past year is the importance, and sometimes a necessity, of being equipped and prepared.
The first day of Spring is just in a matter of weeks, which means that trade show season would be just around the corner. However, even despite current efforts in lessening the spread of the virus and increasing herd immunity, many in-person events are still put on hold until organizers can be confident their event will be safe for everyone involved.
Infinite Showroom, also known as virtual showrooms, has become an essential platform supporting both dealers and manufacturers to showcase their products and to close remote deals and sales. While huge annual events like NeoCon are scheduled to take place in the latter months of 2021, it's critical you have all the tools and resources that can help you stay flexible and ready for anything.
In today's post, we'll be sharing 5 steps on getting started with virtual showrooms and a few ideas to consider when starting to build out your vision.
1. Dream Big
The first and perhaps one of the most important steps is to dream big. The beauty of virtual solutions is the immense potential and countless possibilities of what you can create. Since your showroom will be hosted exclusively online, barriers like space constraints and restrictions or even allocating resources for the physical space and rearranging the products every season will no longer be a problem.
The number one aspect of virtual solutions that you need to remember is that virtual means no limits. If your vision is to showcase your products with a perfect view of the Eiffel Tower or even on the Moon, your showroom can be built there. While most may not opt for such an out-of-this-world experience, with virtual showrooms, if you can dream it, you can bring it to life. The only limitation is your imagination.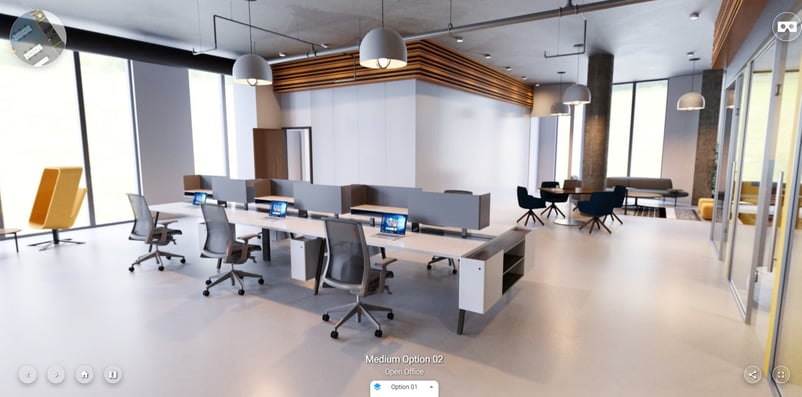 2. Figure Out Logistics
Now that you have brainstormed and zeroed in on your vision for your showroom, it is now time to plan out the contents of your virtual space. Although there is limitless space to play around within an Infinite Showroom, it is still important to organize your products in a sequence that is easy to understand and flows well. The last thing you want is for your visitors to explore remotely feeling lost and confused inside your experience.
Here are a few ideas and considerations to explore when deciding what products to showcase and the flow of your showroom:
Consider the beginning, middle, and end of your experience - what do you want your visitors to take away from your virtual showroom?
What products or product lines are most important to showcase?
How will you group the products? Ie. materials and color finishes or a common but specific type of technology
Will the products all be showcased in their respective product lines or mix-and-match?
3. Gather Media
After planning what products you would like to highlight in your showroom and finalizing how you would like your space to look like, it is time to start compiling your different online media and resources to include inside your virtual showroom. Another winning benefit of virtual showrooms is the ability to share pertinent information about your space or a specific product right within your experiences. The vast range of materials you can include in your Infinite Showroom can include (and certainly not limited to):
3D animations highlighting different configurations or ways to use the product
Videos introducing the latest features and technologies in your brand new product line
Images showcasing a product's color, material and finish options
Spec sheets of a particular product
Background music or ambient noise
While his third step may not seem to be absolutely necessary compared to the others we share, this preparation will make the following step much easier and quicker to complete - this leads us to the next point.
4. Enhance It
With the Infinite Showrooms our team at KiSP creates, the virtual experiences are hosted on Yulio, a virtual reality presentation tool. Within the Yulio ecosystem, the platform offers a wide selection of features that enable you to include the media you have gathered and enhance your presentations with them. For example, if you have an image, video, audio file or would like to type out further details about a product, you can do so with their line of Hotspots. These Hotspots will appear on your projects as clickable trigger points, allowing you to share more information in a sleek and interactive way.
Here's a project that you can explore that includes most of the Hotspots available on Yulio - click on the dots to move around the experience and learn more about the project.
It's important, especially if you are using virtual showrooms to connect with remote audiences, to share as much relevant information with an interested visitor, or even a prospective customer. Sometimes including just a bit more about a product can be the difference of missing an opportunity or landing your next sale.
5. Seek Expertise
And finally, one tip we always share with those that are interested in building virtual showrooms or maybe on the fence about it is to seek expertise. While virtual showrooms have existed since the mid-2000s, the concept is still fairly new to most people. Even though we just outlined the steps you need to take when building your virtual showroom, we understand it can be difficult even knowing how to begin to dream big or how overwhelming it can be getting started.
With over 20 years of experience, our Visualizations team at KiSP is made up of highly-skilled professionals specializing in creating stunning photorealistic experiences - we are always here and ready to deliver. We understand the importance of visual storytelling and its role in not only an exceptional showroom experience but in building the relationship between business and client. So if you are uncertain, unsure, or looking for greater guidance in creating your Infinite Showroom, it's important to connect with those who have the knowledge, expertise and tools that can help you utilize these virtual tools. It will help you save time trying to execute this project on your own as well as achieve your showroom vision much quicker.
Get Started Today
Although the pandemic has certainly increased demand for remote tools such as virtual showrooms, the overall trajectory especially in commercial design industries was always heading in this direction. It is only a matter of time where this solution becomes the industry norm where professionals can carry their showrooms in their pockets and can showcase their products and space on the go anytime, anywhere. The need to adapt is necessary, and it is time to make the move today.
---
Want more tips, tricks, and considerations on how you can continue connecting with clients while working remotely? Click here for a FREE resource on 5 Ways to Enhance Your Meetings & Connect with Clients Virtually. For more information about Infinite Showroom or to get started today, you can contact us at renderings@kisptech.com or give us a call at 416-499-2457 ext 2741.