The KITS collaborator is a great tool for contract furniture sales that puts a lot of power into the hands of sales teams and their design partners. It has many tools and features that outpace traditional sales methods. This includes features that can help you visually present, re-specify and sell your products, including high-quality renders and augmented and virtual reality. A lot is packaged into The KITS collaborator to give you the power to show and sell.

To make sure new users, and those who may need a refresh on some of the more intricate features of The KITS collaborator, are comfortable using The KITS collaborator, we have many different help sources that you can visit. To make things easier, we've compiled the top support resources for The KITS collaborator in this article to act as a jumping-off point for those looking for support or just a refresher on how some features work within The KITS collaborator.
KITS collaborator Tutorials
The first resource we want to recommend is the many tutorials that we have on The KITS collaborator Knowledge Center. Here you will find tutorials for pretty much any feature of The KITS collaborator. You will find tutorials broken down into several categories to make things easier to find. From getting started with KITS collaborator, to account management, to rendering and exporting, we've got you covered.

These tutorials are written out in step-by-step instructions with screenshots directly in The KITS collaborator that highlight the tools and features and how to navigate the user interface. You can search the many tutorials here and even get recommendations on what tutorial you may be looking for.



We highly recommend that this be the first place you visit as these tutorials cover a wide range of topics and are generally a quick read if you are coming in with a specific question and want to find an answer quickly.
The KITS collaborator YouTube Playlists
If you are a visual learner we recommend checking out the several playlists we have available on the KiSP YouTube channel for The KITS collaborator. We have a playlist for both iPad and Windows users that each has 10+ videos on how to get started with The KITS collaborator and get acquainted with the features. Both feature imagery and video are recorded directly in the software so you can see exactly how to use all the available features.




We recommend following along inside The KITS collaborator so that you can get a feel for using the software as you learn from the video tutorial. There are also video tutorials for features included in The KITS collaborator XRPro edition that show you how to access and use the AR and VR features included in that edition.
KITS Webinars
We have a lot more video content available for you in our KITS Webinar Wednesday archives. Every so often we will hold a Webinar Wednesday where we have a webinar on a requested topic or feature, or showcase a newly added feature. When these are scheduled we do post about them on our socials and share them with KITS users. However, we do have a large archive of previous webinars available online that can be watched on demand.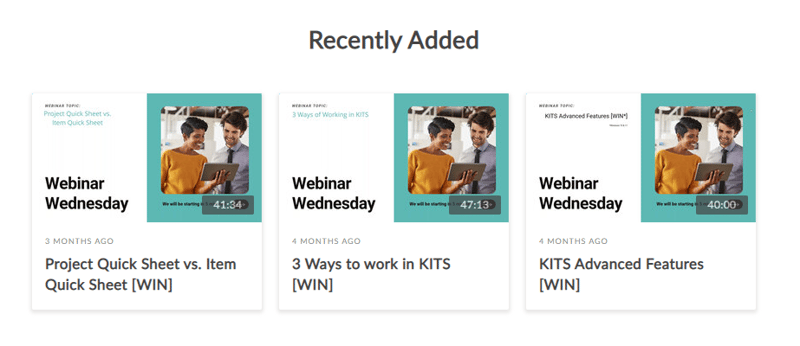 Similar to our tutorials and YouTube channel, these webinars are broken up into series and categories that you can explore to learn more about The KITS collaborator. We have a general FAQ series that may explore questions that you may have about The KITS collaborator. We also have a series on the rendering features and how you can improve your renderings and start selling visually.
Free Training Days
Looking for something a little more engaging? No matter what experience level you are, we invite you to join us for Free Training Day. On the Second Thursday of every month, we run a 90-minute KITS Mobile training session. In this session you will learn about:
Device Requirements
Getting Started with The KITS collaborator

Project Gallery tour
Syncing Catalogs

Starting a New Project

Navigating the Scene Builder
Camera angles + gestures

Adding Items and Editing
Creating Renderings

Line drawings and environments

Sharing with Clients and Team Members

AutoCAD export, Quick Sheets, Project Share

Organizing Your Projects + Best Practices
One thing to note is that even though this session is live, there is no chance for a Q&A session at the end. Instead, we invite you to reach out to our technical support team after the session.
The KITS collaborator Technical Support Team
The final resource we wanted to highlight is our fantastic KITS Technical Support team. This is a dedicated team of humans who know The KITS collaborator in and out. You can ask these experts anything here. They are willing to walk you through any issues you might have with KITS and get you back to showing and selling right away. You can reach out to contact them with the information below:

Phone: 1-416-499-2457, Press 1
Email: KITSsupport@kisp.com

Please be aware that their business hours are from Monday to Friday 8:30 am to 8:00 pm* Eastern Daylight Time (EDT) and that Canadian statutory holidays are observed.
---
We hope that we have given you some good resources to use in your journey with The KITS collaborator and that you always feel like you have the power to show and sell with KITS. If you want to be featured as one of our top KITS users, please let us know your KITS success story.