The contract and commercial furniture industry, like many others, has been disrupted by changes in the workforce, changes in client expectations for ready-to-ship products, and technologies for visualizing space live Virtual and Augmented reality. Juggling the expectations against time pressures to meet with clients and adjust design, update pricing, and manage delivery requirements all chip away at a salesperson's time. To accomplish it all, dealers and contract furniture professionals increasingly need to rely on furniture sales software tools that let them do more in less time and fewer meetings.

Industry-built contract furniture sales software solutions such as The KITS collaborator make things a little easier. They help address pain points with traditional sales and planning methods and offer remote capabilities and new visualization methods that show the most realistic preview of the final product. Keep reading for a breakdown of the issues of traditional sales methods and the tools that could come with mobile furniture sales software like The KITS collaborator.
Contract Furniture Industry Challenges
The traditional sales method for selling contract furniture looks like the following: a dealer sales rep visits the space and takes measurements and pictures for reference. Next comes catalogs and some textile samples that they walk their prospect through and show examples of products and configurations that may have been popular in the past.

Once they get feedback from the client, they then can take that info and start planning. They will leave, start creating layouts, work with a design team and then start the back and forth with the client to fine-tune the design while managing client needs around updated pricing and budgets.
The challenge is that all contract furniture reps are being asked to do more with less, and that means saving time where possible while maintaining client service. In the traditional process, there's friction that can eat away at valuable rep and design time:
A lot of back and forth between prospect and client and other teams
Challenges with lengthy and expensive design time being used up
The reliance on catalogs and physical materials can take up space and limit selection during a meeting and are quickly outdated, consuming even more time.
Reliance on client's understanding of layouts and scale of products
Clients putting off decisions on finishes that delay the process
Luckily affordable technology built to sell and work the way you do can help you cut to sell faster. It's all about choosing the tools that fit your workflow.
The Solution: Furniture Sales Software
The goal of contract furniture sales software is to streamline the traditional sales method so that reps can accomplish more in each client meeting - because they are always battling time - client time, design time, and their own need to get everything done in a day. The software can also offer less reliance on physical materials and catalogs and simpler visualization tools for sales reps and clients. On top of this, they offer the chance to differentiate your dealership services by showing off cutting-edge tools and services that your clients are increasingly expecting from you.



The Value of Mobile Furniture Sales Software
So what can mobile furniture sales software do and how can it help you get more done? The ideal solution should act as an all-in-one tool for efficient client meaning and communication with your design team. That is the value of The KITS collaborator. It offers a variety of tools, mirroring your traditional sales process but with simple visualization methods and streamlining collaboration with clients. All of this while being available on portable devices such as an iPad and Windows touchscreens. We will break down some of the features furniture sales software should contain below.
Quick to Learn
Renders of furniture layouts have become commonplace, and clients expect to see something to get an overview of the layout they will be getting. However, some software used to create layouts can require some serious training and practice with dedicated courses to learn all the ins and outs. The KITS collaborator was created so furniture professionals can access useful tools with no steep learning curve. New users can get up and running right away and clients can even get an idea of how the software works, and they can work more closely with you and refine and specify the space.

The KITS collaborator does this with a click-and-drag system that allows you to place furniture product models onto a grid. It even allows you to customize the space you are rendering with custom floors and walls that can match the client's space, making it easier for the client to imagine the space.
Layout and Visualization
The main feature of The KITS collaborator is the ability to plan a furniture layout within the software. This means setting up the floor space, choosing the products, placing them in the space, and creating a layout that meets the needs of your client. This isn't done using traditional spec software and as you set up the design using 3D models of the furniture products.

With The KITS collaborator, you can immediately start to visualize the space and modify the layout to maximize both the space and create an appealing design. The visualization side of things doesn't end here though:

Generate Realistic Renderings Quickly
On top of having software that is accessible and comparable to industry standards, having something with the ability to create realistic renders that can convey aspects of the product such as the material and texture. This could be done within the planning portion of the software itself, but some software such as The KITS collaborator allows you to generate a separate rendering that can add aspects such as lighting and more definition.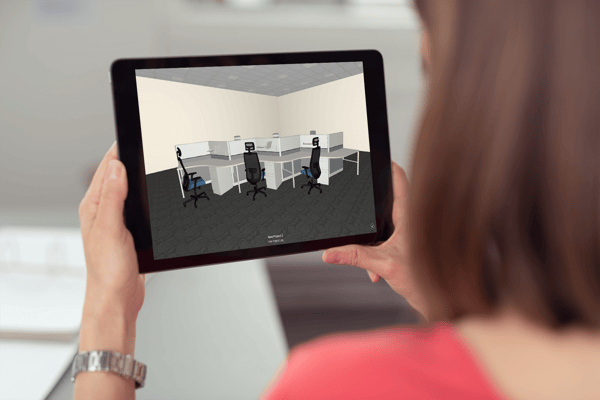 We hear time and time again from our users about the value of being able to create high-quality renders quickly. Stephen Lambard, the founder and owner of Contract Office Reps, in Southern California says "The ability to render high-resolution images within minutes while on-site with clients; increases efficacies saves time and resources, plus ensures accuracy of the products I'm specifying for my customers."

The idea of "try before you buy" is a common theme we are hearing among consumers these days. And the ability to show accurate renders allows you to preview products in one of the most realistic ways without having the product on hand. Clients who have a better understanding of the final product are less likely to have concerns when the installation phase arrives.

Access to Manufacturers' Typicals
Furniture sales software should also have access to the leading manufacturers' catalog of products to help create quick starting points and wins. Software developers will have to make sure they work with the manufacturers you need and that your clients want.

With The KITS collaborator, we've worked to connect with top furniture manufacturers such as Teknion, Haworth, Herman Miller and nearly 100 more. You can learn more about the products available in The KITS collaborator in our manufacturer showcase. Whatever software you choose needs to have access that works for your customers. Consider certain client verticals such as hospitality, healthcare, and office spaces, and make sure to use software with access to manufacturers with products that tailor to those groups. The KITS Collaborator has access to a variety of manufacturers with access to manufacturers across multiple industries.

Within these catalogs, you will also find access to typicals from these manufacturers. These can be preset layouts such as workstation setups, sitting areas, and receptions that can be a great starting point when starting with your designs and layouts. You can start here to get an idea of how you want things to be placed and then go in and tweak the products to meet the needs of your clients and make them unique and specified for your client.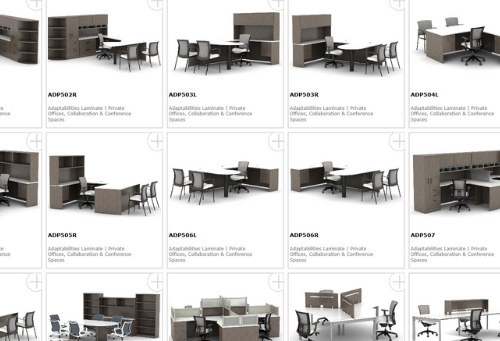 Many KITS users see great use in the use of typicals. Alan Rivera, a Business Development Manager from Workspace Interiors, is a firm believer in engaging his clients by using typicals available in KITS, making changes, and designing right in front of his clients. Doing this he finds them more engaged, and they start thinking about other elements they'd like to include that they may not have thought of before. "It upsells them - things that are on the typical that might have been skipped or not discussed, like overheads or racks get upsold. The typical puts it all on the plan and the next thing you know the customer's buying all of it."

KITS also helps Alan stay ahead of others in the space, as he tells us "I also learn more about manufacturers I'm not as familiar with by going to typicals I never would have built myself or recommended and you learn more about what's out there. I update my KITS every week to make sure I'm up to date with all my typicals and my catalogs - there's always something new out there."

Meeting New Customer Needs
New technologies like AR and VR that are being used in consumer goods from fashion to automobiles have raised the expectations of our buyers to see the whole picture before they purchase. It's a fair expectation as asking someone to sign off from a swatch when they're not accustomed to the industry may be unfair. Furniture sales software such as The KITS collaborator can be a way to meet the needs of consumers. A recent study from 2021 by e-commerce technology company Zakeke shows that 41% of consumers are looking to have a much more personalized experience when it comes to their digital shopping interactions. With the shift to digital in recent years, businesses had to meet that desire with new digital/remote solutions. Many businesses had to consider how could they digitally provide their customers with a preview of the product that would both satisfy the customer's need to ensure they were buying the right product and provide the most realistic preview.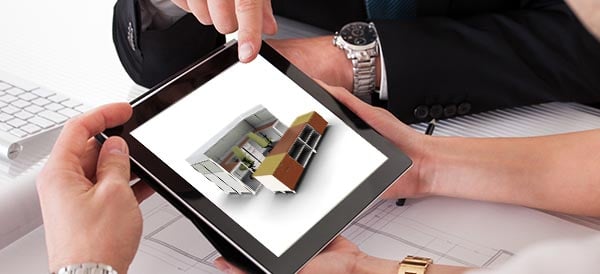 Customizable
While this software should be easily accessible and approachable to all users, it should also be customizable to the way you work. The configurator tools should be robust and allow you to customize all the usual aspects of the product that are available in the catalogs. Cutouts, desk accessories, cable management tools, all of these should be able to be added and showcased realistically. You want to be able to build the product layout you and your client desire.
Shareable
A key consideration when approaching furniture sales software is how you are going to be able to share your designs with clients and how it can connect with your other tools already in use.

Of course, with pretty much any software you could always show in person or remotely over a video conferencing tool. However, it is worth considering software that allows you to share information about your project with clients and your other teams. The KITS collaborator allows for several different formats of file exports so you can share files with your design team if needed. As well it can create quick product fact sheets that offer a breakdown of the product costs. Later we will talk about how KITS can even share projects and unique views of your future designs.

The KITS collaborator can also take advantage of the free KiSP plugin available within CET Designer. With this plugin, you can export CET drawings directly to The KITS Collaborator on your windows device from the CET Software. Using your CET project with KITS Windows edition, sales can work with clients in person or remotely to refine the design by changing colors, finishes and small refinements to make it exactly right.

Access on Both Mobile and Windows
One feature that can be very handy, especially for clients who want meetings in person or want dealers to travel to sites is to have the software available on both PCs and Mobile devices. The KITS collaborator is available on iPad as well as Windows machines, without any compromise in functionality. This allows dealer salespeople to carry KITS with them anywhere and easily start planning a space right away, even if just visiting for the first time.
Selling Remotely
It's no big secret that the last couple of years had a massive impact on the work habits and lifestyles of many businesses. It changes the way the world worked and shifted the priorities of many people. There is a newfound reliance on remote solutions and the ability to work and collaborate with others over great distances. Many types of furniture sales software can continue to work in this time, and quite easily in fact.

We've all become accustomed to screen-sharing and video conferencing and a lot of sales software can easily be used during these types of meetings. In our experience talking to KITS users, many of their clients are very happy to be a part of these types of meetings where they can watch the shared screen and see the user plan out and make changes to a live rendering and see their design come to life right before their eyes.
The Unique features of The KITS collaborator
The KITS Collaborator has a few unique features that can really help you visualize and present your designs in a way that takes advantage of the latest technology such as Augmented and Virtual Reality.
Selling with Virtual and Augmented Reality
The KITS collaborator has a set of immersive features that can help your clients visualize your projects both at in-person meetings or remotely. Our KITS XRPro edition comes with Augmented Reality (AR) and Virtual Reality (VR) capabilities. For those who may be unfamiliar with these two terms/technologies, here's a quick breakdown:

Augmented Reality - AR allows you to overlay a computer-generated element into a real-world environment. For contract furniture dealers and manufacturers, this means that your client can view a 3D model of any furniture item in their real-life workspace.

Virtual Reality - VR is a complete immersion experience that removes an individual from the physical world with a VR headset or smartphone. Transport clients into a virtual representation of your solution to build an emotional connection.
Viewing Project in VR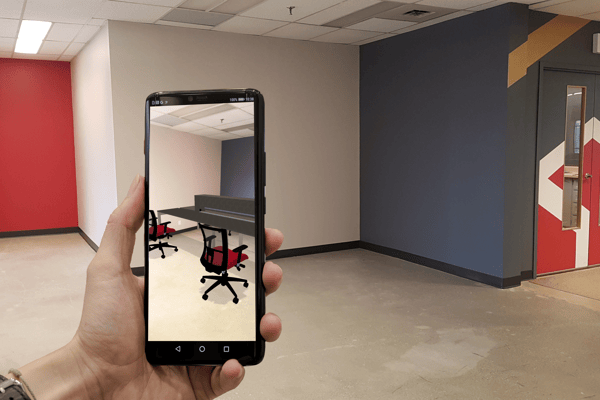 Presenting your project with AR or VR will allow your clients to explore in full 360 degrees and get the most realistic preview of the products they are selecting. While 2D renderings are a great start for allowing your clients to visualize your solutions, immersive technologies such as AR and VR will give a greater understanding of the size and scaling of the furniture pieces. Plus, telling your story in a new way can make a big impact on your client. If they are new to this immersive tech, you can be the one to introduce and wow them with it.
The Value of Software That Sells
We hope we've given you a good overview of what to look for in contract furniture sales software, and how it can put power into the hands of sales representatives. With this new knowledge, we hope you can start exploring this space and have some good ideas of what you would be looking for.

The KITS collaborator™ - Mobile Sales Platform was developed to be the go-to solution for all departments of a dealership. If you're interested in equipping your dealership with KITS, click here to sign up for your online demo. For more information about The KITS collaborator and all its features, check out our product tour page here.