According to Statistica, there are approximately 2.5 billion smart device users worldwide, which demonstrates how deeply we have embraced digital transformation. People have become more digitally literate in their personal lives, and further integrated technology into business workflows. As such, companies have preferred advanced tech solutions to answer the many barriers they face with the ever-evolving business climate.
In the contract furniture industry, the sales team is a critical part of propelling growth in any organization. Being able to support your sales team with the necessary training and tools is vital for your business now and in the future. As the sales environment becomes more competitive, dealerships and manufacturers are investing in mobile sales tools that are effective to enhance their sales teams service, and take service to their customers. When incorporating the pre-existing skills of the sales team with tools that will support their process, a mobile sales tool will prove to be a valuable asset in your company.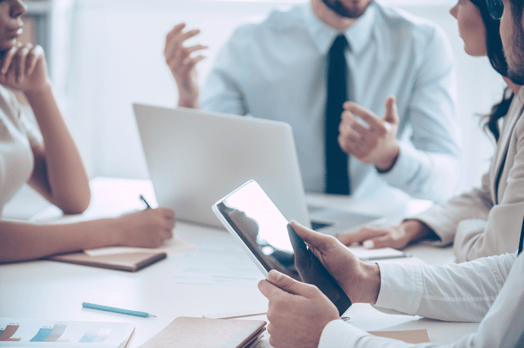 Be Ready at All Times
Nowadays, people rarely leave their house without their phone or even their tablet, making a mobile sales tool one worth investing in. Having a portable portfolio will ensure that you will never experience a missed opportunity. Whether you would like to showcase furniture configurations that you have arranged previously or create your vision for a new space, using a mobile sales tool allows for greater flexibility to showcase solutions in front of your customer. Plus, you have an arsenal of endless combinations ready at your fingertips. With manufacturer catalogues, products, configurations, and fabric swatches all in one device, access all the possibilities in your office or on the go.
Allow your Clients to See your Proposal Fast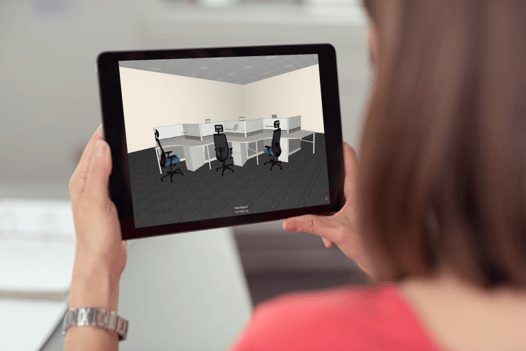 Getting your clients visuals can be time-consuming and one major barrier preventing you from getting a sale. However, using a mobile sales tool will help you create renderings as soon as possible. Since visualization tools are readily accessible with your device, tap into your clients desire for instant gratification and present your clients vision in an effective and timely manner. Or, make changes on the fly to satisfy your customers concerns, and add complementary products to upsell. When thinking about mobile renderings, look for a tool that lets you create a render simply, with the power to share it with your clients.
Build a Deep and Meaningful Connection with your Clients
Using a mobile sales tool lets you engage with your audience like never before. Through accessing numerous catalogs and a limitless amount of combinations and configurations, harness the ability to customize your clients desired product right before their eyes. Not only is this technology impressive, but enhances your clients involvement with the decision making process.
Mobile sales software is a complementary tool in your overall process, enhancing areas of your workflow like portability, convenience, and efficiency. Investing in these tools equips your sales team to approach your clients with greater confidence that will ultimately assist them in getting to the sale. The best tools are enhancements to your sales process – many clients will still want to feel and touch the fabric swatches that you may be recommended. However, being able to re-configure, visualize and problem solve in front of them will help get to the sale faster, and build deeper relationships.
---
The KITS collaborator™ - Mobile Sales Platform was developed to meet the needs of today's office furniture sales professional. For more information about the KITS collaborator and all of its features, check out our product tour page here. To see the KITS collaborator in action, click here to watch a brief video.