We are pleased to announce that Custom Educational Furnishings (CEF) is now available for you to explore on The KITS collaborator for both iPad and Windows 10 devices. Sync their digital catalogs, and begin creating new projects with their eye-catching furniture solutions that will transform any learning space. To request access, click here.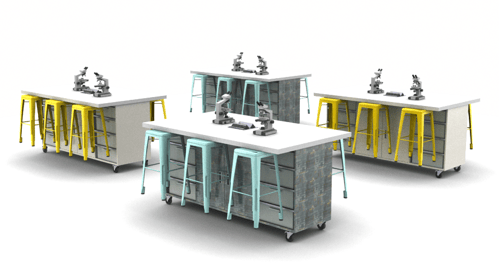 Meet CEF
CEF is a North Carolina-based educational furniture manufacturer, specializing in makerspace, next-gen and technology furniture that caters to the various needs of both the students and teachers. Located near the heart of the furniture belt, CEF has been hand assembling furniture for over forty years before joining forces with Precision Materials in 2014. By combining the knowledge and resources of both companies, CEF has been incredibly successful in producing creative classroom-ergonomic furniture solutions for the ever-changing modern classroom.
CEF offers a wide range of finish and colour options, giving your clients the opportunity to customize their learning space to match their vision. Plus, with using KITS, our mobile sales tool, you can build and configure your project faster than ever. So discover CEF's digital catalogs and begin specifying today!Visit http://www.cefinc.com/ for more information.