We had a phenomenal time at the EDspaces 2019 conference hosted in Milwaukee, Wisconsin! It was so lovely to have seen some familiar faces as well as have the chance to meet some new ones.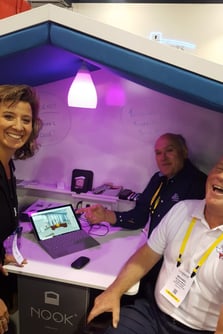 Hosted by EDmarket, EDspaces is an annual conference that gathers top industry leaders specializing in technology, space, and impact learning in the field of education. With over 200 exhibitors, EDspaces provided the perfect opportunity for manufacturers, service providers, and distributors to connect and network with key stakeholders. The 3-day conference was jam-packed with useful industry insights and valuable time to share and learn from one another.
And while EDspaces 2019 has concluded, we wanted to share some of our highlights from the conference, what we learned, and where the industry is heading. Let's get started!
1. Emphasis on Incorporating Technology
One clear theme that appeared time and time again at the conference was the role of technology in education. Technology has become one of the most powerful tools in our modern-day society. With the innate ability to connect people like never before and enhance current processes, it's no wonder technology has found its way into our everyday lives.
When walking around the conference, we noticed a clear and distinct representation of various advanced digitally-based tools. Many booths were either promoting their own tech-based solution or somehow incorporated technology to communicate their message. While this brief temperature check was quite telling in the direction the education industry is heading to, almost all the dealers and manufacturers we talked to were also seeking tech-based solutions to help them sell quicker.
Products like digital catalogs have become extremely popular with furniture dealers and manufacturers specializing in educational solutions. Instead of bringing an overwhelming amount of hard-copy catalogs, dealers and manufacturers can now access all their products from a mobile device. And while tried-and-true solutions like the hard copy catalogs get the job done, going digital provides a simpler, more convenient and organized way of showing products to clients.
2. Innovation
EDspaces welcomed a myriad of innovative solutions that provided answers and options to the various barriers in the education field. Aside from the cutting-edge furniture solutions from the Artcobell showroom, it was so lovely to see our friends from Nook and their mobile meeting spaces. We were lucky to be able to use their Nooks to meet with some of our clients during the conference, and we had an incredibly enjoyable experience.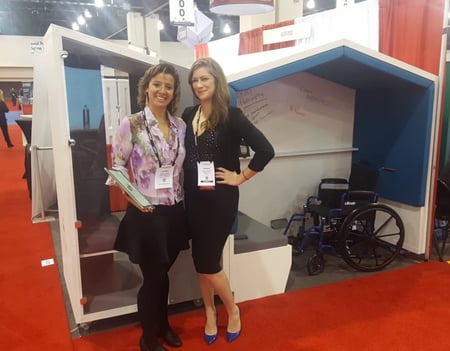 Along with their most well-known model, Nook brought with them several variations that were inventive and accommodating. From their wheel-chair friendly meeting space to their single-user workstation, it was great learning about their story and how they provide a clear solution for space management. As always, we loved being able to interact with their meeting space solutions.
3. Faster Solutions
Due to the all-consuming influence of technology, clients are now looking for businesses that can deliver promised results quickly. Whether it be pricing quotes or a digital mock-up of a space, clients want options and answers as quickly as possible. The current process of meeting with clients, understanding their vision, creating sketches and a variety of mock-ups all take time, and quite a bit of it. And even after making a life-size version of their vision, your clients may still end up saying "I'm just not seeing it".
This is why we have and will always recommend investing in mobile tech solutions to help you get to the sale quicker. It was great seeing how receptive all the dealers and manufacturers were when we shared a glimpse of the power of KITS. Not only were they captivated by how quickly you can draft up a space configuration, render it out and send it, but the whole process from start to finish can take a matter of 30 minutes. And with clients continually seeking faster and better solutions, having a catch-all program like The KITS collaborator will be the future of this industry.
4. Greater Interactivity
As we continue to lean into the digital transformation, the buyer's journey is no longer only dependent on whether they are seeking your service or product. More than ever before, consumers have begun to crave businesses that allow them to interact with their solutions and to experience them for themselves. This latest development is largely due to technology shifting consumer tastes to being an experience-driven generation, valuing a company's attempt to involve the consumer versus the product/service itself.
Immersive solutions like Augmented Reality (AR) and Virtual Reality (VR) have become very popular for businesses wanting to create an exciting yet effective experience for their clients. VR allows you to show rather than tell your clients your vision for their space. By immersing them in a virtual environment, your clients can interact with your products in a whole new way. Many dealers we interacted with particularly enjoyed AR and its immersive capabilities. AR works by overlaying a digital version of a product into any real-world context. Both these technologies are able to give an extra experience, leaving a greater impact on participants.
5. Challenging the Norm
When we were visiting the other booths at the conference, we noticed how many businesses have pushed passed the norm and have embraced more creative and better educational solutions. One great example was Demco's exhibit and how they are changing learning spaces with biophilic design.
Learn how to incorporate natural elements into your own #LearningEnvironments and reap the benefits of #BiophilicDesign. #ClassroomRedesign https://t.co/SEqH4eh3hY pic.twitter.com/FqCmXSOpYj

— Demco (@demco) October 31, 2019
Biophilic design comes from the term biophilia, which refers to a human's innate inclination and attraction towards nature. Studies from the mid-1990s and from recent years have both found a strong correlation between integrating organic elements and student's test performance.
By considering nature in the space, natural analogues, and nature of the space, designing with this phenomenon in mind combines natural elements with a learning environment. While schools provide various environments for students to learn, most classrooms are not well list and are often confined by white concrete walls. Demco was just one of the many great examples from the EDpsaces 2019 conference that showcased a variety of alternative options that push passed the "normal" classroom.
The Future of Education
The biggest takeaway we got from the EDspaces 2019 conference was how technology is the future of education. While tried-and-true methods have worked for many dealers and manufacturers in the past, they can no longer rely on these methods moving forward. In order to stay competitive within this industry, dealers and manufacturers must start looking and investing in the latest technological solutions that are simple, intuitive to use, and affordable.
---
The KITS collaborator™ - Mobile Sales Platform was developed to meet the needs of today's office furniture sales professional. For more information about the KITS collaborator and all of its features, check out our product tour page here. To see the KITS collaborator in action, click here to watch a brief video.