Recently, we had the pleasure of attending two conferences hosted by INDEAL Inc. Every year, INDEAL organizes two events, gathering the best in the industry for a weekend in March and April to discuss trends, attend valuable presentations, and network with industry professionals.
The first event, WPF Conference – Together Toward Tomorrow, welcomed dealers and manufacturers to discuss the theme of looking far ahead… and implementing the future now. The second and final conference was INDEALs 4th annual Champion conference, inviting industry leaders who are a part of their Champion program for a jam-packed weekend of learning and networking.
The sessions were extremely valuable and we learned from others and met people influencing the industry. Here are a few highlights that were most notable to us from both INDEAL conferences.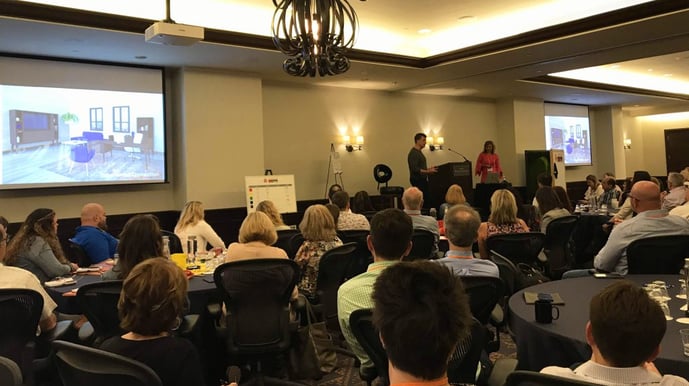 1. Impact of Advanced Technologies in the Furniture Industry
Its no secret that we are transitioning into a time of increased digital literacy. Many of our everyday items have extremely advanced capabilities, making our lives more convenient and connected than ever before. Same goes for our ever-growing and ever-changing industry. One major theme that was consistently highlighted in both conferences was the rise of advanced technologies, the role they play in the industry, and how they are the answer to many barriers dealers face when making a sale.
The amount of software and tools that are available for dealers and manufacturers to enhance their workflow is impressive. As well, the amount of dialogue, support, and excitement that surrounded The KITS collaborator and its newest upgrades was both enlightening and encouraging. We also thoroughly enjoyed showing both dealers and manufacturers the power of KITS with its newest XRPro features — Augmented Reality (AR) and Virtual Reality (VR).
As the value of advanced technologies becomes clear, we expect to see a growing number of digital solutions in the furniture industry. Most tools available are simple and intuitive but make a big impact. More than ever before, digital tools have become a crucial part of supporting dealers in their whole sales process, equipping and empowering them with confidence to engage with their clients better and get to a solution faster.
2. Exclusive 1-on-1 Dealer Meetings
Attending huge conferences like NeoCon is a fantastic way to learn about the newest technologies and innovations. However, with how busy and crowded large events can get, it can be difficult getting a good look at all the products and programs that are represented.
INDEALs 1-on-1 sessions were a great way for dealers to meet manufacturers and vice versa. Each meeting lasted around 15 minutes, carving out time to sit down, connect, and learn from one another. We particularly found this section of the conference valuable as it was time set aside with the intention of not only showcasing our product but to share constructive dialogue between dealer and manufacturer. It gave us the opportunity to collect instantaneous feedback as well as have that human connection that makes learning about the product much more effective.
We really appreciated this section since it gave the opportunity for dealers to ask questions about our product that could potentially be a feature in the future. Meeting face to face allowed us to both humanize our product as well as see the person that could potentially be our next product champion. The section overall was a positive and valuable time that encouraged a tighter knit learning experience.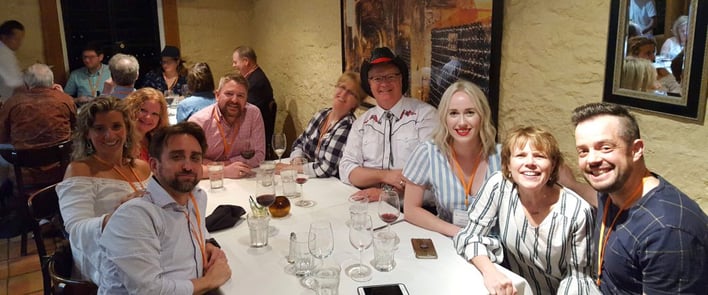 3. Networking Opportunities
This is unquestionably a key benefit to both INDEAL conferences. Although the 1-on-1 sessions were a great way to formally get to know one another, the best times to network with others were after the official sessions. INDEAL knew this and curated their events to include pockets of time to allow dealers and manufacturers to mingle around.
We loved having the opportunity to reconnect with existing dealer partners as well as meeting many new dealers. It was such a valuable time being able to listen in on a dealers experience with their business in a low-key way. We definitely observed dealers sharing whats new in their business, barriers they have been facing, and solutions they have implemented to enhance their workflow. As word gets around in the industry by word of mouth, the post-session networking opportunities allowed for organic introductions to products that could take their dealership to the next level.
4. Learning from Others
Though it seems quite self-explanatory and intuitive, both conferences had an unofficial and underlying theme: to listen and learn from others. We learned a considerable amount from the keynote speakers as well as attendees at the conference.
INDEAL had a great line up topics like improving your presentation skills, networking effectively, and finding and using your individual talents as your strengths. On top of that, they put together an impressive lineup of keynote speakers like Nate Sachs presenting on Preparing for Tomorrow and Kevin Budelmann speaking on People Design.
The discussion topics and keynote speakers provided a comprehensive view of various topics that were refreshing, relevant, and wildly beneficial. Topics like the future impact of the economy on this industry helped shed some insight and perspective on what we can be expecting in the future.
Additionally, learning from fellow dealers and manufacturers on their different opinions and experiences during the discussions gave an incredible picture into their segment in the industry. Different parts of the industry have different barriers they encounter as well as points of wisdom. The opportunity to collaborate and share our winning stories was the cherry on top of the two events.
Moving Forward
In both conferences, we found there was a distinct emphasis on looking beyond our present day and into the future. Technology is playing a distinct role in getting us to the tomorrow today by upgrading our current workflow into one that is both efficient and effective.
One of our main takeaways from meeting with dealers and connecting with manufacturers is the distinct connection they have to the idea of an infinite showroom. We found that attendees in both conferences were thrilled that there are various programs and tools that are available in helpings support their marketing and sales team by helping them explain their products better to their clients.
We really enjoyed our time at the 2019 INDEAL WPF and Champions conference, and hope to see you at the next one!
---
We would like to thank INDEAL Inc. for their assistance in this article as well as congratulate them for their success in both conferences. To learn more about INDEAL Inc. and their membership program, click here.
Learn more about The KITS collaborator here, or request a demo for a full walk-through of our mobile sales platform