Back in mid-June, we had the pleasure of attending NeoCon 2019 to chat with new and old friends about The KITS collaborator as well as seeing the latest trends in the commercial design industry. Although we were very busy during the whole event, it was really exciting seeing the latest 2019 trends in design and furniture all in one place. From matching mixed materials to adaptable furniture, 2019 welcomed numerous stylistic approaches that reflected many client's current values in aesthetically pleasing yet practical solutions.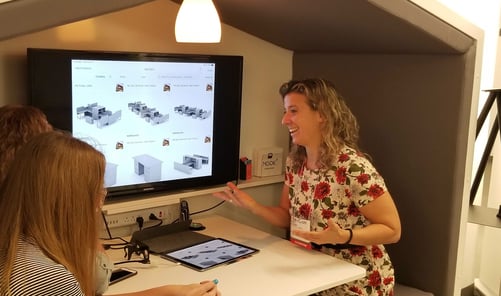 Laura chatting about The KITS collaborator at NeoCon 2019
However, as we draw 2019 to a close and look forward to the new year, now is the perfect time to get acquainted with the various emerging office design trends in 2020. Let's dive into our personal top 3 picks for what you could look forward to seeing more of in the not-so-distant future.
Wood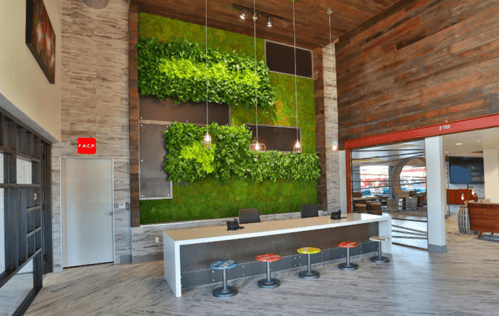 Captured by: Ambius
This extremely versatile organic material is making a full on comeback after a period of offices choosing whiteboards, drywall and metal desks. We suspect that due to the current environmental climate, more and more businesses are reevaluating their practices to include a greater selection of eco-conscious solutions. Plus, the tastes of the clientele has also changed after the anti-plastics movement began to pick up steam earlier this year. To add to that, Gen Z and Millennials have started to enter into the workforce, seeking companies that align with their stances on sustainability and responsible production. This may not seem like a big deal, however, the most recent generation of cohorts are quickly garnering influence over the labour force, with Millennials becoming the largest generation in the US labour force.
While there is a significant amount of support for using wood due to environmental concerns, the material itself is notorious for encouraging a warm and welcoming space. Whether it be used on countertops or as an accent wall in the office, wood can transform a space that is most notably a sterile and bland space into an eye-catching and inviting area. We're excited to see how businesses translate this trend into new and fresh furniture solutions or accents around an office space.
Sustainability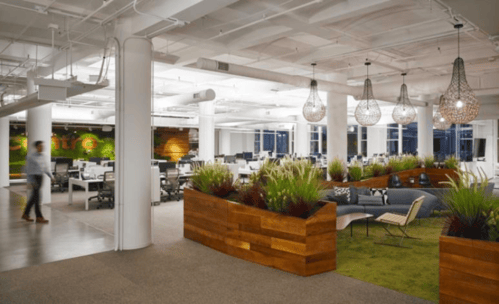 Design by Partners by Design / Photography by Tom Harris (Hedrich Blessing Photographers)

Eco-consciousness has become a hot topic this year and will continue to gain momentum in 2020. Like we just covered, businesses are hearing the concerns from their clients in regards to attaining furniture solutions that were designed with the environment in mind. Companies have started to revisit some areas of their current workflow and materials they use in making the solutions and seeing how they can further improve on the pieces without unnecessarily harming the environment. Take National Public Seating for an example. Their business curated a "SittingGreen" collection of products that specifically adhere to the ANSI/BIFMA #X7.1-2007 VOC emissions standards, doing their part in practicing and setting an example of responsible production.
The shift towards being more sustainable and eco-conscious welcomed more research into biophilic design and birthed movements like the Living Building Challenge. In essence, Biophilic design combines natural organic elements into a space to strengthen the human-nature connection. This could range from live plants around the office to natural elements like wood or stone accents to create a more rustic and dynamic work environment. As companies are seeking ways to reconnect and incorporate nature into the work environment, sustainability is one trend that will continue on to 2020 and beyond.
Modular Spaces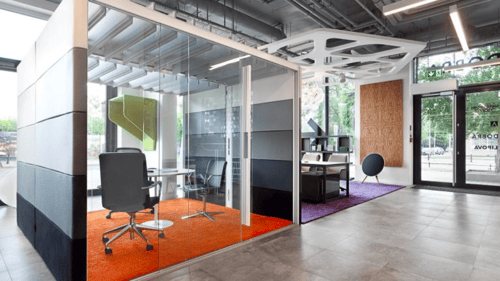 Photo by: NeoCon

Open and collaborative spaces are still very much an ongoing trend, however businesses are starting to look at various ways on how they can improve their employees quality of personal space. While collaborative spaces are very much a valuable tool to provide people with a space to share and discuss new ideas, private spaces are just as important for them to focus more intently on their tasks at hand.
The reason why modular spaces is our last favourite office design trend in 2020 is that it gives employees the flexibility to get their work done in the way that works best for them. While some may thrive in open environments, others may find the space distracting and thus hinder their performance. Now with modular structures, businesses can now work smarter and more effectively all while speaking to the needs of the different people within the company.
During the EDmarket 2019 EDspaces conference, we were able to use a modular space to meet with our clients and prospects. NookPods have become the go-to solution for businesses wanting a mobile private space. Each pod is equipped with various features like whiteboards or built in desks to support those using Nooks with the tools they may need to finish their tasks. Heading into 2020, we're looking forward to how businesses will incorporate modular spaces into their work environment to cater to the different needs of their employees.
Office Design Trends in 2020 - It's Time to Get Excited
From our top 3 picks for emerging trends in the office furniture industry, sustainability and mobility are areas we are anticipating will be huge in 2020. As the furniture industry continues to shift with what's current and popular, we're excited to see the different collections and products that will be launched with these trends in mind.
---
The KITS collaborator™ - Mobile Sales Platform was developed to meet the needs of today's office furniture sales professional. Interested in trying out the KITS collaborator yourself? Your personal online demo is just a click away, click here to sign up today! To stay updated with all things KiSP, follow us on Facebook, Twitter or Linkedin!