From sales reps to design consultants, we have heard from countless KITS users and shared their success stories within our KITS community. Although each industry professional utilizes their mobile sales tool in a unique way, we have gathered 4 common best practices among power users to help become more efficient, productive, and most importantly, close more sales.
1. Run a Complete Sync Daily
Running a complete sync may seem insignificant and trivial, however we strongly recommend incorporating this simple function into your daily routine.
Syncing is a crucial step when using The KITS collaborator. Nick, a business development associate at HON shares, "Before using KITS, I was only learning product from the full line pricer, which is HUGE. KITS gave me an interactive way to learn the product by process of trial and error." Manufacturers are always improving their data and updating product information, and power users sync consistently to make sure they are working with the most up-to-date information before consulting with clients. Another major benefit of syncing is saving your projects directly to our cloud. This ensures you won't run the risk of losing any of your work.
Many users find themselves syncing only when they are downloading new catalogs. It is important to break this habit and start syncing on a daily basis. Keeping catalogs updated and new projects saved to the cloud will ultimately save you time in the long run. When it comes to syncing, the more content you download and update, the longer it will take to complete the process. With daily sync, power users are never stuck waiting - especially during time-sensitive opportunities.

If you run into any issues with syncing, click here for common causes and to help resolve the issue.
2. Keep Your Gallery Organized
It's really easy for your KITS collaborator gallery to become cluttered with old projects, projects you're currently working on, and incomplete drafts. We recommend going through your collection of projects every once in a while - perhaps monthly - to clean out all the inactive projects, and to sort your current ones into their respective folders.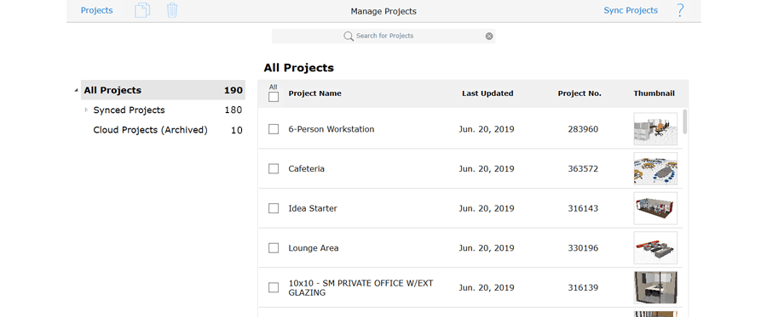 Taking this preemptive step in decluttering and organizing will make navigating through KITS easier and more convenient for you.
At the beginning or end of every month, spend some time clearing out unnecessary projects and reorganizing your current ones into folders. Just like you normally would on your desktop, organize your various meetings and iterations into folders, and delete any drafts that you won't be using. Rather than scrolling through numerous projects to find the one, implement a monthly clean up for your dashboard to keep things nice and organized. Not only does developing the habit drastically change the look and feel of your gallery, but it can save you time in finding the project you need.
3. Use Naming Conventions for Easy Search
Understandably, when you're in a rush or in front of a client, it's easier to save your project under a generic description such as "New Project", "Office Space 1" or "Office Space 2". However, this can quickly become confusing and difficult when it's time to locate a project for revisions or client inquiries.
One practice that power users follow that you can easily implement is to take on a consistent framework for naming your projects. Ideally, establishing a naming convention before you start saving projects would help prevent a disorganized gallery or misplacing/losing your files. However, we understand that many of our KITS users have been using our program for many years.
We suggest, after doing a gallery clear-out, renaming your projects if possible, and move forward with a consistent naming system.
Here's an example of a naming convention:
[Company name]: [Client's name], [Project Name] _ [Date of the Meeting] [Version #]
In practice, this is what the framework could look like:
Steelcase: Brian Lee, Grand Rapids MI Showroom_ 27 May 2019 v1
Establish a naming framework and begin communicating consistently, clearly, and effectively.
4. Include KOE Items
Our KITS Office Elements catalog features a library of additional items to breathe life into any project. Rather than presenting your scene with a flat white background, add in office supplies, plants, and people. This allows your clients to preview your proposed space and its potential with added realism.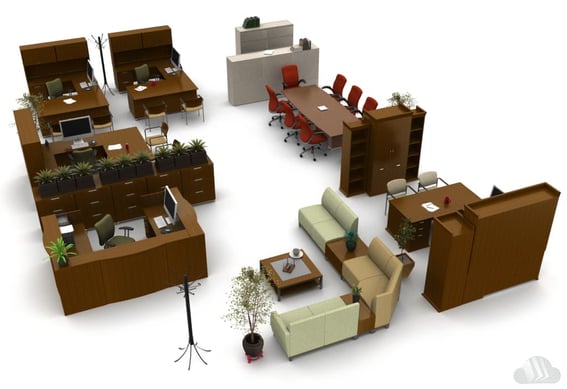 Incorporating architectural or decorative elements makes your scene more realistic and relatable for the client. Whether it be adding accents of greenery, or two people interacting in the background, using KOE items humanizes the space. Plus, all of the items in the catalog have been built to scale, further adding another layer of realism to your environment.
Mike, an Operations Manager at McMillan Business Interiors shares his success with the KOE catalog, "The KITS Office Elements gives an added layer to a rendering, giving a more real-life view of what a clients office will look like. Utilizing structural element gives a real sense of space and relations to the walls, windows and doors around us. No two offices are alike and being able to drop a column right where it belongs and being able to space plan around that, makes everyone's jobs a whole lot easier."
One top tip we want to share when adding our catalog's elements is to keep in mind the message you want to convey in the space. If your client is hoping to furnish an open space specifically for fostering greater collaboration, you could add in figures in the middle, huddling in a meeting. Not only are you giving your clients a greater understanding of a space's context, but it shows them how your vision answers their prompt.
Become a KITS Power User
We have found that syncing daily, keeping organized, and enhancing renderings are just a few common practices that lead to successful sales for our KITS users. We encourage you to try incorporating these effective habits in your workflow to help build confidence in your sales tool and set yourself up for success. Create better, work smarter, and experience the power of KITS like never before.
---
We hope you found these tips on best practices with KITS helpful in kick-starting your power user journey! For more tips, tricks and considerations, visit our Knowledge Centre for all our tutorials and program updates. To learn more about The KITS collaborator and all of its features, click here for our Product Tour page.