Your team of sales professionals are always on the go, travelling to with their customers on-site or in the field. At the moment, the materials they prepare to go meet a client may comprise of multiple stacks of product catalogs and a range of fabric swatches. Although your salesperson may have used this tried-and-true method for years, there is a better way of helping your clients visualize a space, and it's through the help of technology.
Technology has advanced at such a rate where there are now tech solutions available on mobile platforms. Being able to access all your necessary information through a tablet or a mobile device allows your sales team to function in a more flexible and convenient manner. Not only does it make the sales process less cluttered for your sales professionals, but it also makes the entire sales process more efficient when you have all your tools wrapped up into one platform.
Before we jump into how exactly a mobile sales tool may enhance your sales team process, let's demonstrate what we mean when referring to a mobile sales tool.
What is a Mobile Sales Tool?
A mobile sales tool is a platform that hosts applications and features that are available to enhance your sales process all within a mobile device. In other words, it's an app that lives on your mobile device allowing you to access your catalogs at all times.
With this in mind, how would a mobile sales tool help my dealership's sales process?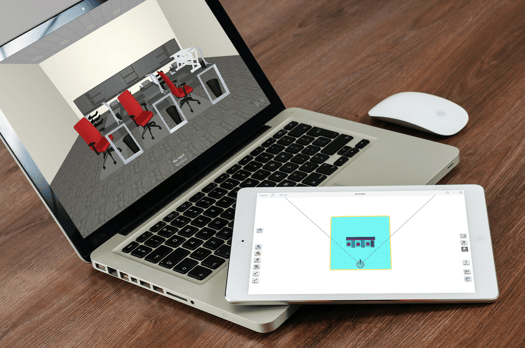 1. Changing Customer Expectations
With the rise of technology, your customers are looking for dealerships that will deliver instant results. The current sales process of flipping through product catalogs, choosing the desired items, then selecting finishes can be very time-consuming. Not only can the products not live up to your client's expectations, but the constant back and forth can be an inefficient use of time. Not to mention the time and resources it takes to draft up their pricing sheets, assembling test products, and presenting the final configuration.
This is not to say that the traditional selection method doesn't work, however utilizing a mobile sales tool can make the whole process more efficient.
With using a mobile sales tool, you are able to cut the configuration process significantly by drafting it up digitally. Not only does this eliminate a few large steps in your process, but you are able to execute your client's vision in a timely manner. Plus, most mobile sales tools have a built in system where you can share your projects easily with your clients. The platform can not only enhance your configuration process, but it can also help you send the final draft to your client instantaneously.
2. Empower your Team
The best part of a mobile sales tool is that your team can take all their necessary information anywhere they go. Not only is it the ultimate tool for business convenience, but all of the vital information you would normally bring to meetings would be as heavy as your phone or tablet. No longer will your sales team need to carry bulky catalogs to meetings to ask their clients to "picture this". Now, with using a mobile sales tool, your salesperson can show your clients exactly what they can expect from a product as well as configure their new space in real time.
Aside from the flexibility a mobile solution provides, using a mobile sales tool helps build confidence in your sales team. Some tools are hosted on a cloud-based platform, which means that the product and pricing information will always be up to date. Plus, all of the information your salesperson would need in a meeting would all be enclosed in the tool, allowing your client to understand your products in a deeper and more impactful way. Adequately equipping your sales team with the necessary tools allows them to work with greater assurance all while being effective.
3. Better Allocate your Resources
It's always a challenge trying to balance your resources in your dealership. The beauty of a mobile sales tool is that it allows your design and sales team in a complementary way. With using a mobile sales tool, your design team doesn't have to juggle their time between large and small scale projects. With equipping your sales team with the appropriate software, they are more than capable of putting together a simple yet effective configuration for their clients. Being able to split off some of the work allows your design team to have greater flexibility and allows them to invest their time and energy into bigger projects.
The plus side of allowing your sales team to take over the smaller projects is the opportunity to build lasting relationships. Of course, any program doesn't beat a trained professional's skill for design. However, being able to craft your client's vision right in front of them shows that your dealership values efficiency and direct interaction with them. A client's positive experience with your dealership can make a difference in your business's reputation and overall trustworthiness.
4. Staying One Step Ahead of your Competitors
There are numerous dealers and manufacturers that have tapped into the power of a mobile sales tool. Your business could continue operating as it is right now, however investing in a mobile sales tool will give you the upper hand compared to your competitors.
"[Previously], I always had to carry around a giant pricer of several different manufacturers if I wanted to sell anything on the spot and do all my design work from the computer in my office. Now, I have my pricer and design tool everywhere I go."
Jerry's experience with a mobile sales tool is just one of many. Not only does it improve your overall sales processes, but a mobile sales tool harnesses the power to show and sell. Perhaps one dealership is still subscribing to the traditional method of bringing a selection of catalogs and fabric swatches to a meeting. With your mobile sales tool, build and present your client's vision in no time and get to the sale quicker.
5. Experience Maximum ROI
Now, since the tool is so niche and catered towards such a specific industry, we can understand the hesitation when considering the price of the product. However, in the long term, the more you use the tool, the more you will see your return in your investment.
As the tool enhances and speeds up the sales process, it will naturally help you complete and start new projects at a faster pace. This momentum allows you to continually cycle through numerous projects and close projects that will all go towards covering the cost of investing in the tool. Plus, if your tool includes a built-in rendering feature, you will be able to cut costs in outsourcing this step and/or allow your design team to stay focused on your dealership's larger projects.
James is an avid mobile sales tool user and found that he was able to close deals quicker when he used the platform. Not only that, but he was able to close $15,000 worth of opportunities with using a supplementary mobile sales tool. Investing in a tool specifically catered to the furniture sales professional is an absolute game changer.
Empower your Dealership
Investing in a mobile sales tool can take your furniture dealership to the next level. As everything is all done digitally, creating on the tool proves to have relatively low risk. If your client changes their mind on a certain finish. With using the tool, it's a simple switch that can be completed in a matter of a few taps. Or if they asked to have a different angle on the rendered image. Instead of asking your design team to go back and redo their work, it's as simple as readjusting and tapping to re-render your project.
Although new and advanced tech tools can be scary, many mobile sales programs were made for consumers with little tech experience in mind. Most programs are user-friendly and have supplementary tutorials and support to help you get started.
It's time to make the switch and experience for yourself the power to show and sell.
---
The KITS collaborator™ - Mobile Sales Platform is a cloud-based program, developed to meet the needs of today's office furniture sales professional. To see the KITS collaborator in action, click here to watch a brief video. If you're interested in trying out The KITS collaborator yourself, book your personal online demo here - sign up today!